The BCSWomen Lovelace Colloquium: An organiser's perspective
This is a guest blog from Hannah Dee, lecturer in computer science at Aberystwyth University and BCSWomen deputy chair.
This year was the 7th year that we've held the BCSWomen Lovelace Colloquium; it's become a fixture in the women-in-tech calendar in the UK and each year we have more students returning for a second or third event. With 120 registered, 31 universities represented, and 54 poster contest finalists, this was one of the biggest yet.
The event has three aims:
To provide a forum for undergraduate women and masters students to share their ideas and network

To provide a stimulating series of talks from women in computing, both from academia and industry

To provide both formal (talks) and informal (networking) advice to undergraduate women about careers in computing from a female perspective
and the day has four main elements: student posters, fantastic speakers, a panel session for a frank careers-based Q&A, and a social at the end of the day. The student attendees are encouraged to chat to each other, to employers and to speakers: we think networking is really important.
As the organiser, I had a great time, and thought it went particularly well this year. There were about 130 registered, and the speakers were brilliant. We even had a baby turn up (Sarah Lamb from Girl Geek Dinners came along, and joined us on the panel, with her 12-week old son).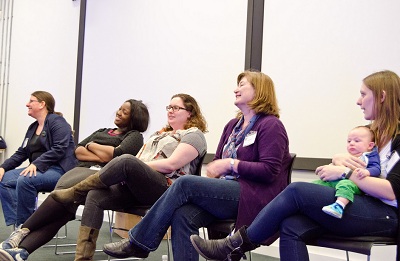 Caption: Hannah Dee, Anne-Marie Imafidon, Cate Huston, Sarah Burnett and Sarah Lamb (with Daniel) take questions from the audience; picture by Silvia D photography.
Poster prizes are a key part of the event and this year we had winners from across the UK – Reading, Dundee, Bath, Hull, Aberystwyth. That's pretty much the whole country covered I think:-). Here are the winners:
MSc contest, sponsored by FDM Group
Best MSC student poster, £300: Maitreyee Wairagkar of Reading Uni, "Seeing Through Walls: Handling Large Datasets".
Final year student (3rd years, or 4th year students on a four year undergrad program) sponsored by EMC
Best 3rd year poster, £300: Heather Ellis of Dundee Uni, with "Mind The Gap: Using e-Health for Seizure Management to bridge the communication gap between patients and clinicians".
3rd year runner up, £200: Alexandra Williams of Bath Uni with "Teaching children to code- how is computer programming helping to change the curriculum?"
2nd year prize sponsored by Airbus UK
(This is actually open to students on their 3rd year or on an industrial placement – basically, this contest is for those students who are between their first and final years of undergraduate study)
Best 2nd year poster £300: Charlotte Godley of Hull Uni with "A crowdfunded wearable technology workshop"

2nd year runner up £200: Angharad Cunningham of Aberystwyth with "Still the minority at 50%"
The Google Excellence Award for best first year
Google sponsor our best first year prize, and this year, that went to …
Best first year poster £500: Katie Hobson of Aberystwyth, title "A Dip in the Meme Pool"
People's choice award, sponsored by Interface3
Every year we have a people's choice award and every attendee gets to vote for their favourite posters (2 votes each), with the most popular on the day getting £150. This year, for the first time ever, there was a 3-way tie on the people's choice votes. I think this is an indication of how close the field was. Rather than cast a deciding vote myself (which would have been, er, unethical) I decided to split the prize 3-ways.
Peoples choice joint first £50 Silvia Diana Teodorescu of Aberystwyth, with "Understanding crimes of the past – a machine learning look into the 19th Century news"

Peoples choice joint first £50 Jolanta Mirecka of Aberystwyth, with "Segmenting Mammograpic Images based on Manifold Learning"

Peoples choice joint first £50 Roseanna McMahon of Bath, with "Augmented Reality – what future can it have on campus?"
As usual we finish with a social, where CA technologies sponsor our drinks and nibbles. Everyone gets an opportunity to chat to the keynotes, mingle, and talk about tech, careers and anything else that interests us.
Next year, we'll be bigger again, better again, and in Edinburgh: April 9, 2015.