Throw your iPhone off the train!
Do you know what I hate? People showing off their iPhones and shoving them in my face while I'm on the train. Watching 'Friends' in one hand with their Starbucks coffee in the other (because they're so cool).

Download this free guide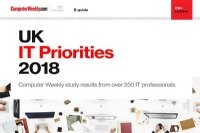 The future of UK tech: Cloudy with a chance of Artificial Intelligence
The forecast for the future is in and, in typical British fashion, it looks like it's going to be cloudy. Our IT Priorities survey has revealed that organisations are planning on making the most of the cloud in the future. Download our IT Priorities results for more insights into where the IT industry is going.
Or, even more annoying, playing games on it. Waving it around without a care in the world! Well, if you've got this far through my post then watch the video below. *evil laughter*