CES 2015: Panasonic challenges GoPro with new wearable camera tech
Panasonic has a lot going on this year, with a focus on its "green mobility strategy", fridges and washing machines to enhance the kitchen and let's not forget televisions.
But probably the most noteworthy part of Panasonic's presentation at the International CES in Vegas this year was their new range of fitness products, including the A500, a 4K mountable sports camera, part of the the Panasonic Adventure range for outdoor activities.
Julie Bauer, president of Panasonic's consumer electronics company, described its new wearable camera following up with the statement:
"Watch out GoPro."
Although that was the only bold move Panasonic made, they still showcased a number of interesting products and ideas, some already achieved and some they want to release into the wild.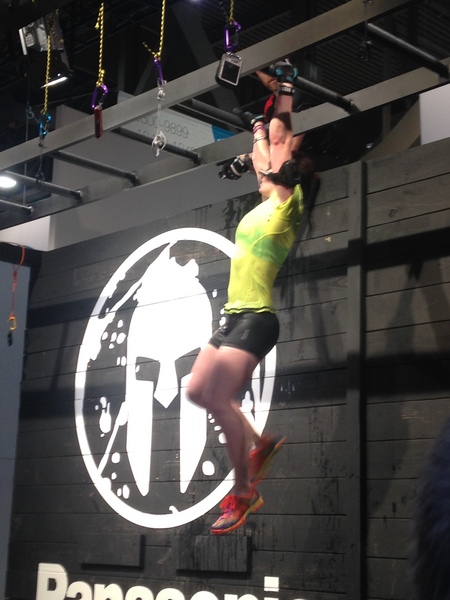 During the show, the wearable was on display, modelled by 'Spartan' athletes who were hell-bent on proving its durability by emerging from a pool of water and climbing a frame whilst wearing the camera mounted on their heads.
On the subject of cameras the firm also announced a set of home security cameras designed to be put around the home and controlled remotely by tablet anywhere around the house.
Those weren't the only cool thing they were exhibiting either; Panasonic demoed the concept of a virtual reality mirror able to project makeup onto to see what works well on your face. I envisage this sort of technology being used in the future to show plastic surgery patients what they might look like after a procedure, or in retail to virtually try on outfits.
Panasonic's CEO and chairman Joe Taylor also announced a partnership with Ford in order to "transform" vehicle communications and in-car entertainment using its Sync 3 technology.
But a big concern for Panasonic, as mentioned earlier, is the environment, and Panasonic has put a lot of time and effort into solutions to power vehicles and cities in more energy efficient ways.
The company spoke of its production of Lithium Ion batteries, a power source for electric Prius vehicles and other automotives, which is the number one use for these batteries globally.
It also spoke of producing scooters, called Gogoro, powered by smart swapping batteries that can be docked in power stations and swapped for a fully charged unit on the spot.
Finally the firm announced its Gigafactory which is currently under construction, designed to produce electric vehicle battery products. Panasonic predicts an annual production for 500,000 tesla cars by 2020 to be powered by renewable energy. The factory will employ 6500 workers and aim to establish more green mobility manufacturers.