Lehmans - The case against Collaboration v2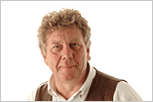 Ian has expressed the view that collaboration might have helped in the current financial crisis. However, a little knowledge is a dangerous thing and, contra wise, knowledge is power — with regards collaboration, both apply.
A senior partner in a city firm said to me recently, "I won't share my contacts and knowledge with others as they will either screw up my well-honed relationship by being crass or try to steal them.
When bonuses and reputation ride on what and who you know, why share the knowledge? The deregulated world is fueled on greed and advantage. How my pigs have you seen sharing the swill bucket?