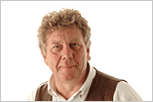 Make sure your team takes a break. With the CCrunch and the ECrunch in the headlines, don't let the HCrunch (holiday crunch) keep people working when they need a break.
I used to enforce a holiday period for consultants who would happily work on through the summer if they could.
If you can't affford to go away, take your holiday entitlement and learn new skills . The adage 'a change is as good as a rest' is as valid as ever. People have an energy crunch too.