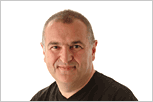 In two weeks grab the chance to catch up on the latest technology, tools and techniques that IBM Collaboration has to offer.
If you are using any Lotus tools, are interested in them or you are a small business interested in the many products IBM is aiming at you then there is a
free
event waiting for you.
The UK Lotus User Group is holding its annual conference close to Westminster Tube at the Church House Conference centre on the
18th / 19th September.
You can find the Agenda, Speakers, Sessions, Exhibitors and most importantly registration at the following URL:
www.uklug.info