Jakub Jirsk - Fotolia
AWS closes in on becoming $10bn run rate business
Amazon.com posts record profit, as its AWS cloud arm continues to go from strength to strength
Amazon Web Services (AWS) has chalked up another quarter of strong revenue growth, putting the cloud giant on course to become a $10bn run rate business.

Download this free guide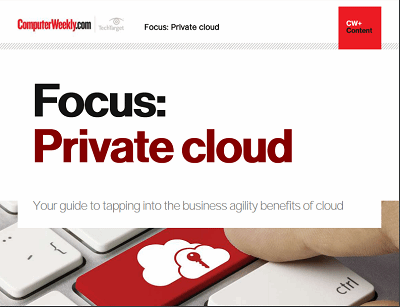 Is private cloud a test bed for public cloud?
Making a cloud sacrifice by doing private? If the business information is sensitive, private cloud could be a good fit, but may require making some compromises (compared with using public cloud) with regard to pricing, scalability and functionality. Join Computer Weekly as they take a look at what enterprises need to consider before moving to the private cloud, from a technical and business agility perspective.
By submitting your personal information, you agree that TechTarget and its partners may contact you regarding relevant content, products and special offers.
You also agree that your personal information may be transferred and processed in the United States, and that you have read and agree to the Terms of Use and the Privacy Policy.
The infrastructure-as-a-service (IaaS) arm of Amazon.com saw its revenue grow by 69% year-on-year to $2.4bn during the fourth quarter (Q4) of 2015, and made $687m in operating profit.
Both figures were markedly up on the previous quarter, which saw AWS bank $2.1bn in revenue against an operating profit of $521m.
In a conference call to discuss the results, transcribed by Seeking Alpha, the company confirmed that there are now more than one million active customers signed up to AWS. It also said it added a further 722 features and services to its portfolio of cloud products over the course of the past 12 months.
Brian Olsavsky, the chief financial officer (CFO) of Amazon.com, said the Q4 performance of AWS means the company's cloud arm is close to becoming a $10bn run rate business, and is achieving strengthening margins. The company's Q4 operating margin has grown from 17% to 29% over the past year.
"As we continue to invent and get better at designing and operating the infrastructure and assets, we have been able to drive costs out of that business. So that's one of the primary drivers of the improvements that you see in margin year-over-year," he added.
AWS in the enterprise
2016 has seen AWS step up its efforts to market its wares to the enterprise market, having made good in-roads into the startup and small to medium-sized enterprise (SME) space since the company's inception in 2006.
In an analyst note, published in the company's daily mailout, TechMarketView research director Kate Hanaghan highlighted the importance of the enterprise in securing the continued growth of AWS.
"It is making an incredible impression and is by far the largest provider of IaaS to the market. A key challenge going forward will be gaining access to a much greater share of enterprise IT spend," she said.
The bright spot in the financial results
The fourth quarter performance of AWS was – once again – the bright spot in its parent company's wider financial results. Despite seeing the company as a whole posting a record quarterly profit, shares in Amazon.com fell by more than 13% in after-hours trading.
The company made a net profit of $482m in the three months to 31 December 2015 – up from $214m a year ago – marking the third consecutive quarter of profitability for the company since 2012.
It also achieved net sales of £35.7bn, up 22% year-on-year, and saw its operating income rise by 88% year-on-year to $1.1bn. In the equivalent quarter of 2014, the company brought in an operating income of $591m.
Despite the downbeat response of the market to the results, founder and CEO of Amazon.com Jeff Bezos said he was pleased with the company's performance.
"Twenty years ago, I was driving the packages to the post office myself and hoping we might one day afford a forklift. This year, we pass $100 billion in annual sales and serve 300 million customers," he said.
"And still, measured by the dynamism we see everywhere in the marketplace and by the ever-expanding opportunities we see to invent on behalf of customers, it feels every bit like day one."
Read more about Amazon Web Services
Read more on Infrastructure-as-a-Service (IaaS)