Bill McCluggage, the deputy government CIO, is to step down from his position at the Cabinet Office to take a position at storage hardware company EMC.
"I am sorry to leave the Cabinet Office team, but feel the time is right after successfully publishing a new strategy and implementation plan for government ICT. This will ensure a modern, fit-for-purpose and cost effective ICT structure which supports public service delivery to a higher standard and gives value for money for the tax payer," Bill McCluggage said in statement.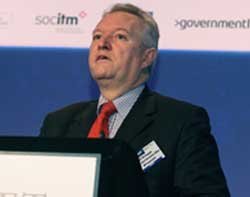 Ian Watmore, permanent secretary at the Cabinet Office, said: "After a successful career in the Northern Ireland Civil Service, Bill has been outstanding in his UK role. On behalf of the Cabinet Office and the whole of the government ICT community, I thank him for what he has done and wish him well in his new job."
McCluggage joined the Cabinet Office as deputy CIO in September 2009 on a salary of £90,000 per year.
Prior to his position at the Cabinet Office, McCluggage worked as CIO for the Northern Ireland Civil Service. McCluggage has also worked as managing director at Titanic Information Services and IT director at Harland and Wolff Heavy Industries.
McCluggage began his career as an engineering officer at the Royal Air Force, where he worked for 24 years.