Hewlett-Packard's newly appointed chief executive and president Meg Whitman promises better execution than her predecessor, but the question is how much of his legacy she intends to dismantle, says research firm IDC.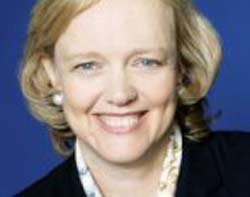 The HP board last night confirmed Whitman as Leo Apotheker's successor and moved Ray Lane from non-executive chairman to executive chairman of the board of directors.
"These leadership appointments are effective immediately and follow the decision that Apotheker step down as president and CEO and resign as director of the company," said HP.
Speaking to analysts on a conference call, Lane admitted that HP's senior executive team was not "working on the same page" under Apotheker.
According to IDC analyst Douglas Hayward, Lane said HP's execution under the former CEO was poor, and that its communication to investors and customers was embarrassingly poor. Lane praised Whitman as a technology "visionary" with deep management expertise.
Lane and Whitman reconfirmed Apotheker's decision to buy Autonomy and to consider spinning off or selling the PC business, promising a decision in that regard by the end of the year.
The bottom line for IT buyers is that Whitman is a seasoned business executive and strong communicator with a track record of building businesses, said Hayward.
"She brings valuable experience in running complex, large-scale technology-based businesses. This stands her in good stead to impress employees and customers alike, and to restore HP's degraded execution," he said.
But Whitman has no experience of running a major technology products/service company, and she will therefore have much to prove to investors and customer alike, Hayward said. "On balance, we'd advise HP customers and partners to be open-minded about Whitman, and to judge the Whitman/Lane duumvirate by its actions and achievements over the next months," he said.
Hayward believed the big issue in the short term is how much of Apotheker's whirlwind of change will be reversed. Whitman told analysts that she would review a number of Apotheker's strategic initiatives.
"While this is understandable, it confirms that we're facing a period of second-guessing until the new regime reformulates HP's strategy. This a break point after a false start, and is not a simple continuation from the past, and customers should question HP closely before signing major new HP business, at least until the Lane/Whitman duumvirate's strategy becomes clear," warned Hayward.
With the rapid succession of switches between "vision" CEOs such as Carly Fiorina and Apotheker and "execution" CEOs such as Mark Hurd and Whitman, Hayward said customers might understandably ask HP, "where is the consistency, and what on earth comes next?".
It is too soon to tell if HP has overcome the vision/execution dichotomy with the Whitman/Lane line-up, he said.
"The new board and new leadership have a lot to prove after the destabilising events of the past year. Lane and Whitman promise better execution than Apotheker, but customers need to ask themselves how much of his strategic legacy - approved by the board on which both of them sat - they will dismantle," said Hayward.
Email Alerts
Register now to receive ComputerWeekly.com IT-related news, guides and more, delivered to your inbox.
By submitting your personal information, you agree to receive emails regarding relevant products and special offers from TechTarget and its partners. You also agree that your personal information may be transferred and processed in the United States, and that you have read and agree to the
Terms of Use
and the
Privacy Policy
.