The GCSE IT curriculum is to be given a dramatic overhaul to make the subject more focused on the needs of business, science minister David Willets has announced.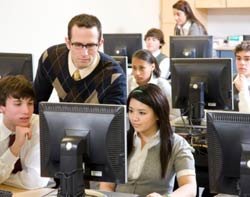 The government will be working with IBM, Cisco, Deloitte, HP, Microsoft, National Grid, Proctor and Gamble, and Capgemini to pilot the new GCSE IT curriculum. The pilot is intended to create a greater emphasis on designing software and writing computer programs in school. Once complete, a new curriculum for IT A-level will also be trialled. The curriculum pilot will run in 20 schools for around 100 GCSE students from November to June.
Willets announced the plans at the British Science Festival in Bradford. "[It] will transform the IT curriculum, moving away from computer literacy to developing software and programming skills," the Financial Times reported Willets said.
Schools have seen a move away from software training over the past decade, said Tom Paes, IT manager at Tomlinscote School and Sixth Form College. The element of software design in the IT curriculum has been removed from most courses, with many IT teachers not typically qualified to provide that particular type of training to students, he said.
The move was welcomed by the British Computer Society (BCS), but the body warned that the government would also need to give clear signals to schools to do more to improve IT beyond focusing on league table results.
"The UK needs professionals who can invent new digital technologies, professionals who can integrate those inventions into technology platforms, and professionals who can build software applications that address business needs. We also need professionals capable of protecting our information, our digital infrastructure and our intellectual property," said the BCS.
Changing the IT curriculum should help address criticism of the poor quality of IT education in schools. On Computer Weekly's IT Works blog, Matthew Poyiadgi, European vice-president of CompTIA, noted: "Too many secondary schools have an IT curriculum which teaches Word and Excel and other subjects pupils already know about."
In August, Google chairman Eric Schmidt criticised the UK IT curriculum in a speech. "I was flabbergasted to learn that today computer science isn't even taught as standard in UK schools. Your IT curriculum focuses on teaching how to use software, but gives no insight into how it's made," he said in an Edinburgh MacTaggart lecture.
---
Join the debate on Twitter using the hash tag: #itworkscw
---
Email Alerts
Register now to receive ComputerWeekly.com IT-related news, guides and more, delivered to your inbox.
By submitting your personal information, you agree to receive emails regarding relevant products and special offers from TechTarget and its partners. You also agree that your personal information may be transferred and processed in the United States, and that you have read and agree to the
Terms of Use
and the
Privacy Policy
.