In a bid to entice users to switch from desktop PCs to thin clients, VMware has optimised its View 5 virtualisation software to support 3D graphics and centralised management.
The company has also previewed Project AppBlast, which it claims offers universal delivery of any application, including Windows-based applications, to any device supporting HTML 5.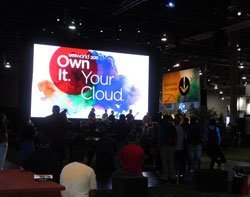 On the VMware blog, Scott Davis, chief technology officer, end user computing at VMware, wrote: "The ability to utilise multiple types of applications from your client devices in a transparent and cross-platform manner is vital to the post-PC era we are entering. The core technology is standards based and utilises various HTML 5 mechanisms. Because it leverages a standards-based foundation, multiple VMware innovations can be used to further extend the capabilities and end user value. All while enabling rich application experience access over HTML 5. Get your content whenever and wherever you need it!"
VMware claims View 5 offers protocol enhancements that provide as much as 75% bandwidth improvement over LAN and WAN connections. The product also offers scalable unified communications integration for voice and video media services with Avaya and Mitel.
"As our customers begin to embrace this shift to the post-PC era, we offer a simple way to deliver a better Windows-based desktop-as-a-service that empowers organisations to do more with what they already have," said Christopher Young, vice-president and general manager, end user computing at VMware. "At the same time, we are investing in expertise and delivering the open products needed to accelerate the journey to a new way to work beyond the Windows desktop. This combination of empowered users and flexible IT-as-a-service enables a new working style that leads to a more connected enterprise."
Computer Weekly comment:
There have been plenty of attempts at getting users to dump desktop PCs in favour of thin clients. But many thin-client users find the technology is still far from seamless and very much bandwidth constrained. But if VMware can truly make the virtual desktop experience as good as a physical PC, then there is no reason why more people wouldn't switch to a virtual desktop infrastructure (VDI).
Email Alerts
Register now to receive ComputerWeekly.com IT-related news, guides and more, delivered to your inbox.
By submitting your personal information, you agree to receive emails regarding relevant products and special offers from TechTarget and its partners. You also agree that your personal information may be transferred and processed in the United States, and that you have read and agree to the
Terms of Use
and the
Privacy Policy
.