Prime minister David Cameron has said government will crack down on rioters using social networks to communicate, as Parliament was recalled from its summer recess to discuss the outbreak of violence this week.
"Mr Speaker, everyone watching these horrific actions will be struck by how they were, organised via social media," David Cameron told the House of Commons.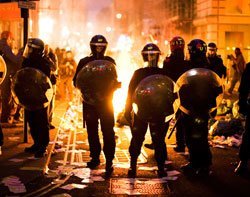 "Free flow of information can be used for good. But it can also be used for ill. So we are working with the police, the intelligence services and industry to look at whether it would be right to stop people communicating via these websites and services when we know they are plotting violence, disorder and criminality."
The speech follows Blackberry's announcement that it will co-operate with the police after it was revealed rioters used the company's messaging service to co-ordinate attacks.
No details have yet been given on how the government would prevent rioters from using social networks, but experts suggest the easiest way would be to shut down mobile networks in areas where riots are taking place.
Home secretary Theresa May will be meeting with Facebook, RIM and Twitter to discuss the role of social media in the riots, but the Home Office said no more details were currently available.
Keith Vaz, chairman of the Commons Home Affairs Select Committee, said it will hold an inquiry when Parliament reconvenes after the summer break
Keith Vaz said the remit will include the role of social networking in organising recent criminal activity, reported the BBC.
Jim Killock, director of campaign body the Open Rights Group, warned that government should not use pre-emptive measures to shut down communication tools.
"How do people 'know' when someone is planning to riot? Who makes that judgement? The only realistic answer is the courts must judge. If court procedures are not used, then we will quickly see abuses by private companies and police. Companies like RIM must insist on court processes," Jim Killock said.
---
Hacker group threatens Blackberry for assisting police investigating UK riots >>
Email Alerts
Register now to receive ComputerWeekly.com IT-related news, guides and more, delivered to your inbox.
By submitting your personal information, you agree to receive emails regarding relevant products and special offers from TechTarget and its partners. You also agree that your personal information may be transferred and processed in the United States, and that you have read and agree to the
Terms of Use
and the
Privacy Policy
.