Riots are nothing new to London, with a history that goes back as far as the city itself. Claims that social media is the root cause of all the recent violence therefore seem highly dubious. Nevertheless, there have been some interesting technological deployments - good and bad - during the mayhem. See below for our latest updates.
After it was revealed that youths communicated via Blackberry Messenger to organise the looting, Tottenham MP David Lammy called on Blackberry maker Research in Motion (RIM) to suspend its messaging service in attempt to stop rioters communicating, according to Sky News. RIM has already said it will co-operate with the police.
BlackBerry's blog appeared to be hacked into on Tuesday after the phone provider said it would work with the police. The Guardian reported that the hackers left a message threatening to publish the details of RIM employees if the company did co-operate with the police. "Dear RIM, You Will _NOT_ assist the UK Police because if u do innocent members of the public who were at the wrong place at the wrong time and owned a blackberry will get charged for no reason at all, the Police are looking to arrest as many people as possible to save themselves from embarrassment," said the message.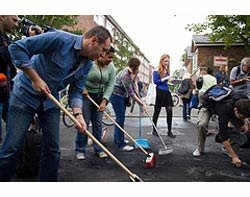 As a response to the rioting that literally spread like wildfire on Monday evening, several groups were created on Facebook and Twitter to clean up the mess, along with the website Riot Clean-up and the Twitter hashtag #riotwombles. Kaya Burgess, feature writer at The Times, tweeted that almost everyone getting off at Clapham Junction on Tuesday afternoon was carrying a broom.
The Metropolitan Police has posted CCTV pictures of riot suspects on its Flickr account. The Met is urging people to come forward and identify the individuals involved.
An interactive map has been created detailing all 69 confirmed riot locations to date in order to counter some of the misinformation reported by the media and social networking sites. As well as London, the areas affected include Bristol, Liverpool, Birmingham and Nottingham.
If you have any more details on how technology has been used during the London riots please post your information below.
---
Photo: Edu Fiend on Flickr
Email Alerts
Register now to receive ComputerWeekly.com IT-related news, guides and more, delivered to your inbox.
By submitting your personal information, you agree to receive emails regarding relevant products and special offers from TechTarget and its partners. You also agree that your personal information may be transferred and processed in the United States, and that you have read and agree to the
Terms of Use
and the
Privacy Policy
.