Google has reported a strong financial quarter under the leadership of chief executive Larry Page with revenues of $9.03bn, an increase of 32% compared with the second quarter of 2010.
Strong growth in Google's core search business, with an 18% increase in paid clicks, appears to have outweighed investor concerns about increased spending on new projects such as Google+, with shares jumping 12% in after-market trading.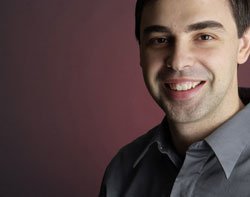 "We had a great quarter, with revenue up 32% year on year for a record breaking over $9 billion of revenue, and I'm super excited about the amazing response to Google+ ," said Larry Page, the Google co-founder who replaced Eric Schmidt as CEO in April.
He claimed early success with Google+ launched last month, claiming that more than 10m people have joined the network and are sharing more than 1bn items a day, according to the Financial Times.
Google sites revenues of $6.23bn were up 39% on second quarter 2010 revenue. Google network revenues of $2.48bn were up 20%.
International revenues of $4.87bn, represented 54% of total revenues in the second quarter of 2011, compared with 53% in the first quarter of 2011 and 52% in the second quarter of 2010.
Revenues from the UK totalled $976m, representing 11% of revenues in the second quarter of 2011, which was the same as the second quarter 2010.
Operating income was $2.88bn, or 32% of revenues, compared with $2.37bn, or 35% of revenues, in the second quarter of 2010.
Net income was $2.51bn, compared with $1.84 billion in the second quarter of 2010 and earnings per share was $7.68, compared with $5.71 in the second quarter of 2010.
Operating expenses were $2.97bn, or 33% of revenues, compared with $1.99 billion in the second quarter of 2010, which was 29% of revenues.
Google said capital expenditures were $917m and the company expects to continue to make significant capital expenditures. Most second quarter expenditure was related to land and building purchases, and IT infrastructure investments, including datacentres, servers and networking equipment.
On a worldwide basis, Google employed 28,768 full-time employees as of June 30, 2011, up 9% form the end of the previous quarter. Google said net headcount growth, excluding 450 employees hired as part of the acquisition of ITA Software, was similar to the first quarter of 2011.
Email Alerts
Register now to receive ComputerWeekly.com IT-related news, guides and more, delivered to your inbox.
By submitting your personal information, you agree to receive emails regarding relevant products and special offers from TechTarget and its partners. You also agree that your personal information may be transferred and processed in the United States, and that you have read and agree to the
Terms of Use
and the
Privacy Policy
.