UK business opposed to new ICO search powers
The Confederation of British Industry (CBI) is concerned about proposed laws that will give the Information...
The Confederation of British Industry (CBI) is concerned about proposed laws that will give the Information Commissioner's Office the power to order spot-checks at companies to ensure they comply with data protection law.

Download this free guide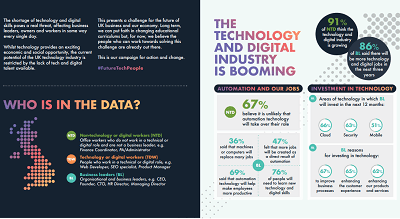 Infographic: Future-proofing UK technology
The current potential of the UK technology industry is restricted by the lack of tech and digital talent available. Read through this challenge for the future of UK business and our economy.
By submitting your personal information, you agree that TechTarget and its partners may contact you regarding relevant content, products and special offers.
You also agree that your personal information may be transferred and processed in the United States, and that you have read and agree to the Terms of Use and the Privacy Policy.
The government wants to amend the Coroners and Justice Bill relating to the Data Protection Act (DPA) that will allow the ICO to search company computers without needing court permission.
The UK business lobby group, the CBI, has criticised the move.
Currently, the ICO has to get a warrant from a court, requiring a suspicion that a company is not complying with the DPA.
The removal of this safeguard could see unnecessary disruption to businesses that are complying with the law, according to Matthew Fell, CBI director of company affairs.
"Taking away this safeguard could lead to unnecessary and unjustified inspections that would hamper and disrupt responsible, law-abiding businesses at a difficult time," he said.
The CBI said the ICO's existing powers to inspect businesses are adequate and the proposed changes would place a disproportionate burden on business during a recession.
Although spot-checks on government departments is already allowed, the power to conduct spot checks on private companies was dropped when the law first went through the Commons.
A Lords committee will vote on the proposal on Monday, but the changes will need to be approved in the Commons before they become law.
If the powers are awarded, the ICO could conduct more raids like the one earlier this year that shut down a West Midlands consultancy for selling information on workers to the construction industry.
In a raid at the Consulting Association in Droitwich, the ICO seized a database that contained sensitive personal information such as the employment history and trade union activity of construction workers.