UK firms face eDisclosure timebomb, survey shows
Businesses face high costs when...
Businesses face high costs when responding to requests for electronic information, from the likes of regulators and lawyers, because they are not allocating enough budget to eDiscovery tools.

Download this free guide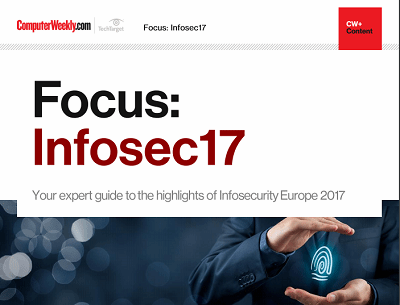 From forensic cyber to encryption: InfoSec17
Security technologist Bruce Schneier's insights and warnings around the regulation of IoT security and forensic cyber psychologist Mary Aiken's comments around the tensions between encryption and state security were the top highlights of the keynote presentations at Infosecurity Europe 2017 in London.
By submitting your personal information, you agree that TechTarget and its partners may contact you regarding relevant content, products and special offers.
You also agree that your personal information may be transferred and processed in the United States, and that you have read and agree to the Terms of Use and the Privacy Policy.
A survey by information risk management software supplier Recommind revealed that 69% of UK IT chiefs allocated less than 5% of their IT budget to supporting eDiscovery, with nine out of ten dedicating less than 10%.
Most IT departments allocate a greater proportion of their budget to information security, e-mail archiving and productivity tools than to technology that can help them satisfy electronic information disclosure requests.
That is despite 41% reporting an increase in eDisclosure requests in the past year, according to the survey.
There is a "disconnect" between a high level of awareness and a low level of action, said Craig Carpenter, vice-president, general counsel at Recommind.
"This is no longer a US-only problem. It affects all companies because of the global trend towards increased regulatory scrutiny and associated litigation," he said.
The proliferation of information within large organisations means that a lack of preparedness could be extremely costly, said Carpenter.
"Preparing for eDisclosure requests is as important as preparing for security breaches, and a failure to do so could cost as much, if not more," he warned.
According to Carpenter, the allocation of IT budgets is skewed by the fact that at most companies the IT department is responsible for eDisclosure, rather than the legal department.
The survey showed that IT has ultimate budget responsibility for eDisclosure in 49% of companies, compared with 14% where the responsibility lies with legal.
Carpenter said legal departments know what information should be discoverable and should educate IT directors about the requirements and importance of eDisclosure. "There is not nearly enough collaboration between the legal, compliance and IT departments within large organisations around this issue."
Reactive eDiscovery is always more costly than a proactive approach, which is the most compelling argument for increased budget allocations, he said.
Read more on IT risk management