Job opportunities in the London financial services sector increased in January as usual, but there were less than during the same period last year.
IT job-seekers will face severe competition as more candidates apply for vacancies following massive layoffs in financial services IT.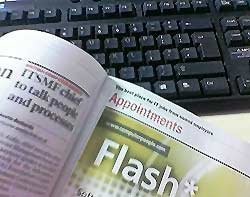 According to financial services recruitment firm Morgan McKinley, there was a 59% increase in jobs comingon the market in January compared withthe previous month. But the number of jobs was 64% less than January last year.
According to the research,workers who started a new job in January took an average of 80.9 days to find it - about three weeks longer than people starting new jobs in January last year.
IT jobs make up about 25% of total job losses in the financial services sector, according to analysts.
Andrew Evans, managing director ofMorgan McKinley, said it is normal for the number of job vacancies to increase in January as businesses begin implementing their 2009 plans.
"Given the extremely difficult situation that London's financial services jobmarket faces, it is significant that this uplift in new job vacancies occurred this year.However, the reality is that there were still considerably fewer new jobs available in January 2009 compared with a year ago," he said.
Ralph Silva, analyst at Towergroup, said this year's business plans will involve filling gaps in IT roles but will definitely result in fewerIT opportunities in total.
"The IT jobs that will take the biggest hit are those related to innovation projects and replacing existing applications," he said.
However, Silva addedthat there wouldbe opportunities for IT workers with skills related to regulatory issues, technology that lowers costs and risk management.
But there will be more competition than ever for these jobs. Evans said employees whohave been made redundant currently account forthe majority of job-seekers.
"Those in employment are choosing to stay where they are rather than enter a volatile jobs market, particularly if they think there is a chance of a bonus payout."
Email Alerts
Register now to receive ComputerWeekly.com IT-related news, guides and more, delivered to your inbox.
By submitting your personal information, you agree to receive emails regarding relevant products and special offers from TechTarget and its partners. You also agree that your personal information may be transferred and processed in the United States, and that you have read and agree to the
Terms of Use
and the
Privacy Policy
.