The GMB trade union will accuse Marks & Spencer of systematically bugging its workers when it takes the retailer to an industrial tribunal over the sacking of whistleblower Tony Goode.
See: Marks & Spencer confirms 1,200 job losses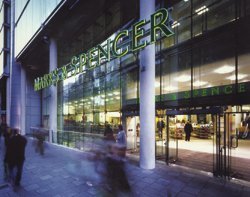 The union will say that Eurosis, a company that supplied microphones and other equipment to allow simultaneous translation of statutory workplace negotiations to M&S, installed a secret, illegal "special line" in the workers' meeting room that allowed management to overhear their conversations.
Maria Ludkin, the GMB lawyer who represents M&S's GMB members, saidthis information came from aEurosis employee. Ludkin alleged that M&S had retained Eurosis for three yearsto bug the discussions of worker representatives from the retailer's European works council. These discussions were meant to be private but company representative could listen to workers' discussions on pay and other conditions. Eurosis no longer worked for M&S, she said.
Ludkin said she had received notice today that M&S intended to defend any action brought in connection with Goode's dismissal.
A GMB spokesman said the union would invite Eurosis representatives to give evidence at the tribunal.
"We aim to show that M&S had a culture of listening in secretly to its workers. That is how they discovered Tony Goode," he said.
An M&S spokesman said, "We have investigated this. The implication that we bugged a meeting is complete rubbish."
An M&S spokesman said she was unaware of any relationship between Eurosis and the retailer, but would check. M&S previously denied that it snooped on its workers.
M&S sacked Goode, who administered the retailer's customer database, for revealing management plans to cut redundancy payments. This morning The Times reported that M&S plans to sack 1,000 workers.
Commenting on the report, Ludkin said, "Marks & Spencer dismissed reports that there would be redundancies when GMB members and M&S whistleblower Tony Goode accused them of cutting the redundancy pay in preparation for redundancies."
She said that GMB would take M&S to an industrial tribunal if it tried to short-cut redundancy proceedings.
"If today's report is correct, M&S has to give 90 days' notice for consultation. If it tries to treat each shop as a separate workplace, and thereby give only 30 days' notice, GMB will not hesitate to take employment tribunal cases for a 90-day protective award, as we have done at JJB Sports."
No date has been set for the tribunal.
M&S will announce its latest trading results, which include Christmas sales, tomorrow.
Email Alerts
Register now to receive ComputerWeekly.com IT-related news, guides and more, delivered to your inbox.
By submitting your personal information, you agree to receive emails regarding relevant products and special offers from TechTarget and its partners. You also agree that your personal information may be transferred and processed in the United States, and that you have read and agree to the
Terms of Use
and the
Privacy Policy
.