Strengthening of WEEE directive not enough says Computer Aid
International development charity Computer Aid International has welcomed the European Commission's proposals to...
International development charity Computer Aid International has welcomed the European Commission's proposals to strengthen the Waste Electrical and Electronic Equipment (WEEE) Directive, but says the move doesn't go far enough.

Download this free guide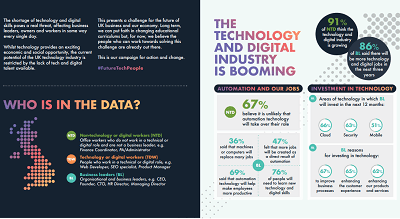 Infographic: Future-proofing UK technology
The current potential of the UK technology industry is restricted by the lack of tech and digital talent available. Read through this challenge for the future of UK business and our economy.
By submitting your personal information, you agree that TechTarget and its partners may contact you regarding relevant content, products and special offers.
You also agree that your personal information may be transferred and processed in the United States, and that you have read and agree to the Terms of Use and the Privacy Policy.
The charity's CEO Louise Richards has voiced support over moves to include re-using whole appliances in the recycling and re-use targets, but rebukes the EC's failure to put in place specific targets for re-use as part of the WEEE Directive.
Richards said, "Computer Aid has been campaigning for the WEEE Directive to be reviewed for some time, so we wholeheartedly welcome moves by the EC to update the legislation, which is falling short in its aims to prevent the generation of e-waste and reduce the quantity discarded.
"It is encouraging to see that re-using whole appliances will be included in the overall recycling target. In the case of PCs, 75% of the energy consumed over the entire lifecycle of the equipment has already been used before it's turned on for the first time, so it's essential that we maximise their productive life."
However, the charity questions the EC's decision to maintain a combined recycling and re-use target. According to the EC, the flexibility to choose the most sustainable treatment option (re-use or recycling) would remain, reasoning it would avoid making re-use an unattractive option by needing to meet higher recycling targets, even when this might be more economically and socially valuable.
According to Richards, specific targets must be set: "The EC has placed renewed emphasis on combining recycling and re-use targets to cut out deterrents to adopting re-use, but why have they not gone one step further and placed specific targets on re-using equipment that is in working order?
"With research showing it's 20 times better for the environment to re-use PCs, for example, it is our hope that in the future the directive will ensure 100% of functioning appliances are re-used."
The EC report also confirms that the illegal trade of e-waste to non-EU countries is still widespread. This was an issue highlighted by Computer Aid in September, through the launch of a petition.
The petition called for the government to provide the Environment Agency with the resources to effectively police the WEEE Directive, to prevent the UK's electrical waste being illegally exported and dumped in countries such as Ghana, Nigeria and China.
An Authorised & Approved Treatment Facility (AATF) for WEEE and licensed by the Environment Agency, Computer Aid offers a full removal and decommissioning service to UK businesses who wish to donate PCs and laptops.
All donated equipment is data-wiped to a military standard using Blancco data removal software, and refurbishment allows for at least another three years of re-use.
The charity has refurbished more than 130,000 PCs and laptops, which are being used to support development projects in countries such as Kenya, Madagascar and Zambia.