Chatty robots on the brink of humanity
A computer program called Elbot succeeded in fooling a quarter of the people chatting with it into believing it was human...
A computer program called Elbot succeeded in fooling a quarter of the people chatting with it into believing it was human during last weekend's Loebner Prize competition and came close to being the first to pass the Turing Test.

Download this free guide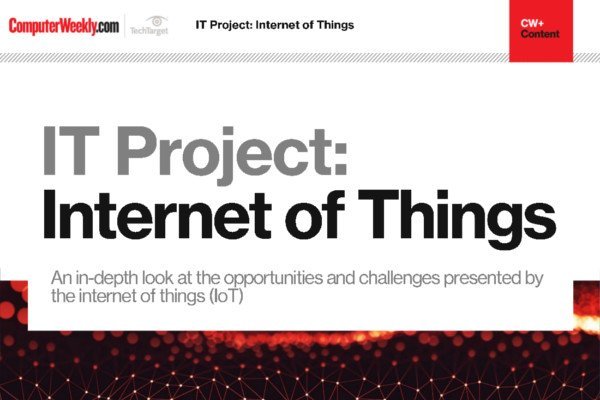 IT Project: Internet of Things
Have an in-depth look at the opportunities and challenges presented by the internet of things
By submitting your personal information, you agree that TechTarget and its partners may contact you regarding relevant content, products and special offers.
You also agree that your personal information may be transferred and processed in the United States, and that you have read and agree to the Terms of Use and the Privacy Policy.
The feat won developer Fred Roberts, a former IBM and Nixdorf software engineer who lives in Germany, £1,760 and a bronze medal for the best machine in the 18th Loebner Prize competition held at Reading University.
The Loebner Prize goes to the computer program that comes closest to passing the Turing Test. Devised by Britain's most famous code-breaker, Alan Turing, the test says that if, during text-based conversation, a machine is indistinguishable from a human, then it could be said to be "thinking" and, therefore, could be attributed with intelligence.
Elbot scored 25% in the test, just below the 30% pass threshold.
The Reading competition drew six entrants and six human "confederates" who chatted using SMS messages with visitors. They each held five minutes of unrestricted chat to see if the visitors could tell which responses were from a machine.
Kevin Warwick from the University of Reading's School of Systems Engineering, who organised the test, said, "The machines are not yet good enough to fool all of the people all of the time, but they are certainly fooling some of the people some of the time.
"Sunday's results show a more complex story than a straight pass or fail by one machine. Where the machines were identified correctly by the human interrogators, their conversational abilities were scored at 80% and 90%.
"This shows how close machines are getting to communicating with us in a way in which we are comfortable. That day will change our relationship with machines."
Roberts said he developed Elbot to converse with users about any topic under the sun, rather than a specialised and self-contained set of FAQs as is usually the case for commercial systems.
"The completely open range of subject matter required various new strategies to make the most of a finite knowledge base, with an eye towards keeping the conversational experience fun, entertaining and meaningful, though not necessarily to fool the user into thinking the application is human," he said.
To chat with Elbot click here.
One of the scripts from the competition will be available soon.