Rethink £300m free laptops plan, experts tell government
This Article Covers
RELATED TOPICS
Government plans to spend £300m to give a million disadvantaged children free laptops and internet access have been questioned by industry experts.

Download this free guide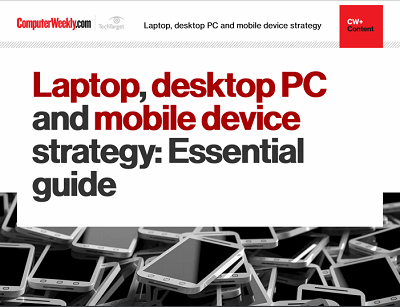 The great debate - to PC or not to PC
IT leaders have greater choice in end-user devices than ever before. The age of PC-only users is over and we have entered the multiple device era. In this guide, you can find best practice, analysis of the latest trends, and expert advice on formulating enterprise strategy in laptops, desktop PCs and mobile devices.
By submitting your personal information, you agree that TechTarget and its partners may contact you regarding relevant content, products and special offers.
You also agree that your personal information may be transferred and processed in the United States, and that you have read and agree to the Terms of Use and the Privacy Policy.
Mark Taylor, CEO of Sirius Corporation, said the sums quoted appeared high relative to what the government was getting. Sirius has just become the first open source educational systems supplier to gain accreditation from Becta, the education technology agency.
"You can get broadband for around £10 a month and an Asus Eee PC, with free Linux, OpenOffice and FireFox, costs about £160, so £280 for a year's access to the internet is actually at retail rates," he said. "I am sure an order for a million units would give the government some bargaining power with hardware and network suppliers."
Chris Mayers, chief security architect at Citrix, said the government needed to reconsider what it was getting for the money.
"We have seen some very successful schemes where schools provide terminals with a browser that gives access to school resources and the internet, via a Citrix thin-client infrastructure," he said. "The connection is always secure and the terminal is low-cost, durable and will not be out-dated in a year. The school has control over the resources provided, the kit will be used for educational purposes, and can be passed to a new pupil when others leave," he said.
Details of how to claim one of the million-plus laptop computers, the configurations and likely suppliers will be made known in early October, said a Becta spokesman. She declined to say if open source suppliers are on the short list.
Becta recently referred Microsoft, which has the lion's share of the UK educational market, to the Office of Fair Trading for aspects of its education licence, and Becta earlier advised schools against installing Vista and Office 2007 for interoperability reasons.
Microsoft has just agreed to pilot a scheme, starting in six months, whereby schools that use competitive products such as Linux or Apple Mac no longer have to pay Microsoft to licence them.