A judge has criticised a government statement made to parliament on its decision not to publish two Gateway reviews - independent assessments - of the ID card scheme.
Stanley Burnton, a judge hearing a case in the High Court on Gateway reviews, criticised a parliamentary reply in 2005 by Paul Boateng, then chief secretary of the Treasury, who was later appointed the government's high commissioner in South Africa. Parliamentary answers are usually written for ministers by senior civil servants.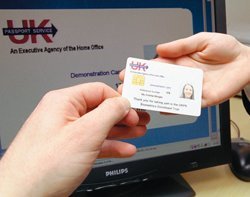 Boateng told Liberal Democrat MP Mark Oaten on 16 March 2005 that the red, green or amber "traffic light status" of two Gateway zero reviews on the ID cards scheme in June 2003 and January 2004 were exempt from disclosure under the Freedom of Information Act. The reviews were carried out by the Treasury's Office of Government Commerce.
The judge said an Information Tribunal had found the two Gateway reviews on ID cards should be published, which contradicted Boateng's statement they were exempt from publication.
The judge said, "Obviously, the effect of the tribunal's decision is that the parliamentary answer given by Mr Boateng, that the Gateway reviews were exempt from disclosure under the [Freedom of Information] Act, was wrong."
Burnton pointed out that it is for the judiciary to rule on whether gateway reviews were exempt from disclosure. He said if a minister "answers a Parliamentary question by making a statement as to the result of the application of FOIA [the Freedom of Information Act], he creates the potential for a judicial ruling to the contrary effect, as indeed happened in this case".
He added, "It is, I think, undesirable for the potentiality for such conflicts to be created."
There was, said the judge, a need for the courts and MPs to have a mutual respect for each other's functions.
The case in the High Court was over an appeal by the Office of Government Commerce of a ruling by the Information Tribunal that the two gateway reviews on ID Cards be published.
Read more on IT Projects blog>>
Email Alerts
Register now to receive ComputerWeekly.com IT-related news, guides and more, delivered to your inbox.
By submitting your personal information, you agree to receive emails regarding relevant products and special offers from TechTarget and its partners. You also agree that your personal information may be transferred and processed in the United States, and that you have read and agree to the
Terms of Use
and the
Privacy Policy
.