Mobile phone maker Nokia is going live this month with a Teradata datawarehouse that will help it match its phones more closely with the demands of mobile users by analysing how people use the internet while travelling.
Speaking at the Teradata Universe conference in Lisbon, Nokia chief information officer John Clarke, former chief technology officer at Tesco, said customer surveys were not always the best way to research customers behaviour.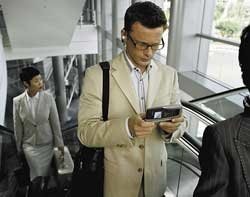 "Consumers don't buy technology - they buy something emotive," he said. "It's very hard to predict what consumers want. What I learnt at Tesco was that what people say they do is very different to what the actually do."
With projections of five billion devices being permanently connected to the internet, Nokia's challenge was to understand what consumers wanted from mobile internet devices, said Clarke.
Data analysis was playing a growing part in the company's development strategy, he added.
"Last year we created 4,000 devices and distributed them internally to Nokia staff. We then captured 16Gbytes of raw data on how these people used the devices, giving us a huge insight into what people do on the mobile internet."
Clarke said such information could be fed back into product development. "We can optimise people's keystrokes and the steps they take in order to improve their experience."
Following its internal pilot, Nokia will now go live with Teradata, analysing 1Tbyte per month. Clarke said it would require a major cultural shift to succeed in using data taken from actual users to influence Nokia's product strategy. "If you want to use more business insight, you have to change how you make decisions."
The concept of mobile context
Mobile internet devices would cause traffic on the web to increase 200-fold by 2015, said Clarke.
"By 2009, we expect there will be four billion internet-connected devices, growing to five billion by 2015."
Clarke said the real power of the internet would be realised when users were permanently connected to it. "This represents a whole new way of thinking. It provides the concept of context, which will transform the nature of the internet."
Clarke gave the example of how GPS data could be used to predict journey times. "We can capture GPS data in real time, correlated with weather reports to provide contextual data," he said. With this information, the GPS application could predict that a taxi journey to the airport would take 45 minutes longer because of slow traffic caused by adverse weather conditions.
Another example, he said, was Nokia's "shoot to translate" service, which was currently undergoing tests. "You take a photo of a sign and it is instantly translated into your own language."
Email Alerts
Register now to receive ComputerWeekly.com IT-related news, guides and more, delivered to your inbox.
By submitting your personal information, you agree to receive emails regarding relevant products and special offers from TechTarget and its partners. You also agree that your personal information may be transferred and processed in the United States, and that you have read and agree to the
Terms of Use
and the
Privacy Policy
.