After "extensive qualitative and quantitative research", regulatory body Ofcom has revealed that nearly half of all children with access to the internet have their own personal profile on a social networking site.
The Ofcom report pulled together research from other sources, which surveyed a total of 7,000 UK adults and children, to investigate the role played by social networking in Britons' lives.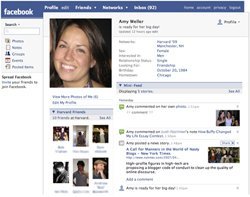 Predictably, it found the widest use among eight- to 17-year-olds: 49% of internet users in the age group used social networking sites such as Facebook.
But even adults are not immune to Web 2.0. A fifth (22%) of internet users over the age of 16 have at least one online profile, according to the report, and the average is 1.6. Half of all adults access a social networking site at least once a day.
According to previous research, by the Get Safe Online Campaign, around 44% of children and 41% of adults leave their profile setting default as "open", so anyone can access any personal information they may have posted.
The qualitative part of Ofcom's research categorised social networkers into one of five social types: alpha socialisers, attention seekers, followers, faithfuls and functionals.
Alpha socialisers, said Ofcom's experts, are mostly male under-25s, who use sites in short intense bursts to flirt, meet new people and be entertained.
Attention seekers are typically female, who seek to draw comments by posting photos and profiles.
Followers join sites to keep up with social developments.
Faithfuls, on the other hand, use social networks to rekindle friendships from school or university.
Functionals are usually males, who single-mindedly join a site for a particular purpose.
Experts advocate Facebook ban at work >>
Social network users hide identities >>
Email Alerts
Register now to receive ComputerWeekly.com IT-related news, guides and more, delivered to your inbox.
By submitting your personal information, you agree to receive emails regarding relevant products and special offers from TechTarget and its partners. You also agree that your personal information may be transferred and processed in the United States, and that you have read and agree to the
Terms of Use
and the
Privacy Policy
.