Firefox 2 launch keeps up pressure on Internet Explorer
Mozilla has launched Firefox 2, the next generation release of its open-source browser, which is second in the browser market only to Internet Explorer.
Mozilla has launched Firefox 2, the next generation release of its open-source browser, which is second in the browser market only to Internet Explorer.

Download this free guide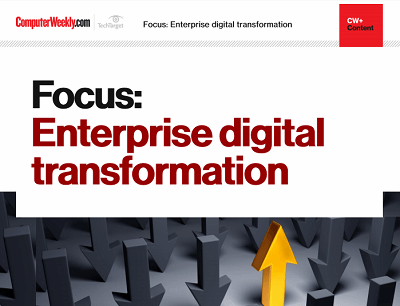 Are you digital to the transformation?
Digital transformation - the buzzword that we can't get away from. Enterprises need to accelerate their digital transformation journeys to avoid being left behind in an increasingly digital world. It's not an easy feat, but one that can be costly to get wrong. Join us as Computer Weekly takes a look at how businesses can stay on track through collaboration, innovation, and listening to user needs.
By submitting your personal information, you agree that TechTarget and its partners may contact you regarding relevant content, products and special offers.
You also agree that your personal information may be transferred and processed in the United States, and that you have read and agree to the Terms of Use and the Privacy Policy.
Firefox 2 has been released a week after Microsoft launched its Internet Explorer 7 browser with improved security and extra functionality.
Internet Explorer has around 85% of the browser market and Firefox more than 10%, but its share is continuing to rise at the expense of IE.
Firefox 2 also offers greater security protection and improved functionality.
The user interface has also been updated to improve useability without altering familiarity, said Mozilla.
Built-in phishing protection warns users when they encounter suspected fake websites, and offers to return the user to their home page.
Phishing Protection is turned on by default, and works by checking sites against either a local or online list of known phishing sites.
This list is automatically downloaded and regularly updated when the Phishing Protection feature is enabled.
Enhanced search capabilities see search term suggestions now appearing as users type into the integrated search box when using the Google, Yahoo! or Answers.com search engines.
And improved tabbed browsing sees Firefox open links in new tabs instead of new windows, with each tab having a close-tab button.
Power users who open more tabs than can fit in a single window will see arrows on the left and right side of the tab strip that let them scroll back and forth between their tabs.
The History menu keeps a list of recently closed tabs, and a shortcut lets users quickly re-open an accidentally closed tab.
The new Session Restore feature restores windows, tabs, text typed in forms, and in-progress downloads from the last user session.
It will be activated automatically when installing an application update or extension, and users will be asked if they want to resume their previous session after a system crash.
Users can also decide how to handle web feeds, either subscribing to them via a web service or in a standalone RSS reader, or adding them as Live Bookmarks.
A new built-in spell checker also enables users to quickly check the spelling of text entered into web forms without having to use a separate application.

Read more on Operating systems software