This Content Component encountered an error
This Article Covers
RELATED TOPICS
This Content Component encountered an error
This Content Component encountered an error
Budget airline easyJet has this month completed the full migration of its servers to a hosted platform as part of a major IT transformation programme to support the company's expansion plans.

Download this free guide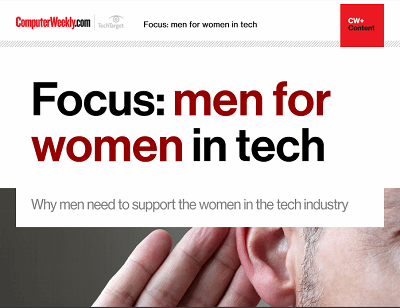 Men for women in tech
This guide showcases some of the men who are helping women to progress in the technology industry and the methods they are using to do so.
By submitting your personal information, you agree that TechTarget and its partners may contact you regarding relevant content, products and special offers.
You also agree that your personal information may be transferred and processed in the United States, and that you have read and agree to the Terms of Use and the Privacy Policy.
The airline is deploying Citrix servers, mobile devices, a SQL Server database cluster, and a virtual private network for remote workers, after going live with a new network infrastructure at the end of last year.
The network is based on a gigabit wide area network triangle linking the company's Luton headquarters to two datacentres.
The airline is also investigating virtualisation technology, said Dan Hall, infrastructure architect at easyJet.
"We are now beginning a project to move our head office 200 yards down the road, which is now a much simpler task since the back-end systems are no longer hosted on-site. There is always a lot going on," he said.
In December, easyJet completed a £500,000 networking technology refresh designed to give its website 100% availability and provide remote workers with access to intranet resources.
The company upgraded the hardware that underpins its critical web platform at two facilities in Docklands and Reading. The web platform is predominantly ­Microsoft-based.
The airline has been using F5 networking products for five years, and installed a redundant pair of F5 Big-IP 6400 application switches to support 32 web servers across both these managed datacentre facilities. The switches are networking devices that accelerate server and application performance.
To support its remote workers and technical support team, easyJet is in the process of installing an additional two Firepass SSL VPN 4100s servers.
The airline said its website processes about 40mbps of customer transactions, giving it the capacity to fill a plane every 20 seconds.
The new hardware is running substantially below capacity, providing the company with scope for future growth, said easyJet.
Camelot IT chief to check in at easyJet
Tim Newing, IT director at Camelot, is to take over as head of IT at easyJet, following a six-year career with the National Lottery company.
Newing, who will take over as IT director at easyJet from late August, is making the move after overseeing a series of major IT investments at Camelot. He moved to Camelot in December 2000 as head of projects and networks from lottery IT supplier Gtech UK, becoming Camelot's IT director in March 2002.
Newing was responsible for moving Camelot's network of National Lottery terminals to ISDN, creating Europe's largest ISDN network, in 2003.
He was also in charge of the roll out of the National Lottery on the internet, digital TV and mobile phones. More recently, he oversaw the launch of National Lottery Fast Pay, which allows shoppers to buy lottery tickets at supermarket checkouts.
"I hope I have helped to put Camelot in a strong position as it prepares to bid for the third lottery licence. But now it is time for a new challenge," Newing said.
This Content Component encountered an error