IBM 'turbo charges' its midrange array
IBM has given a "turbo" upgrade to its midrange modular server, the FAStT600, which will now include advanced flash and...
This Article Covers
RELATED TOPICS
IBM has given a "turbo" upgrade to its midrange modular server, the FAStT600, which will now include advanced flash and volume-copy features, 1GB of cache and up to 112 disc drives offering up to 16.4TB capacity.

Download this free guide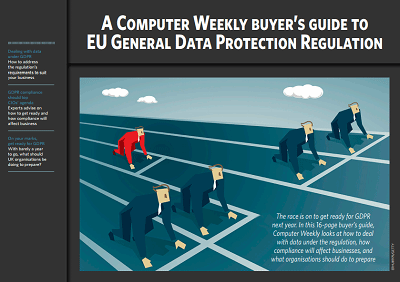 Computer Weekly's Buyer's Guide to GDPR
The race is on to get ready for GDPR next year. Computer Weekly looks at how to deal with data under the regulation, how compliance will affect businesses, and what organisations should do to prepare.
By submitting your personal information, you agree that TechTarget and its partners may contact you regarding relevant content, products and special offers.
You also agree that your personal information may be transferred and processed in the United States, and that you have read and agree to the Terms of Use and the Privacy Policy.
It has also upgraded firmware on the FAStT600, pushing the rate of I/O per second from 46,000 to 77,000. The package is due to ship 12 September.
IBM said its FAStT midrange modular storage server line, which ranges from the entry-level FAStT200 to the enterprise-class FAStT900, is the company's fastest-growing storage product line, with 111% year-on-year and 36% quarter-to-quarter growth.
Ron Johnson, an analyst at Evaluator Group, believed the FAStT600 will displace the FAStT200 as the entry-level storage-area network server for IBM because of its scalability. It fits well in both distributed networks and San consolidation, he said.
"They haven't always done it, but they've done a very good job with the integration of the FAStT line," Johnson added. "They've protected their customer base very well ... and their server divisions are very happy with the FAStT product."
The storage server has a maximum of 42 disc drives, 256MB of cache and can be partitioned into eight to 16 arrays of discs.
Craig Butler, manager of product marketing group for IBM's midrange storage line, said the scalability of the FAStT600 makes it well suited for workgroup Sans, small businesses and data centres.
The FAStT600's cache also increased from 256MB to 1GB, and the maximum number of partitions grew from 16 to 64. Systems administrators will also get IBM's SnapCopy tool for point-in-time copies of data sets, as well as a VolumeCopy tool, which pauses application server operations to take a copy of an entire volume of data.
The turbo option upgrade is priced from $26,570. A new array with the upgrades will start at $36,569.
Lucas Mearian writes for Computerworld
Read more on Server hardware