For the past decade the North East has been working hard to provide its residents with the kind of technological and business opportunities that are traditionally associated with the South. It has been gaining ground, but the region could be set to take off with an injection of European investment funding.
It is worth ignoring the lazy stereotypes painting England's northern regions as lacking in vibrancy. There are plenty of opportunities, and the business community and regional authorities are working hard to improve the North East and tackle its challenges. There are high hopes that the Jeremie (Joint European Resources for Micro to Medium Enterprises) funds, which are due in January, will provide the leg-up it needs to take it to the next league. Up to £125m could be invested in the region.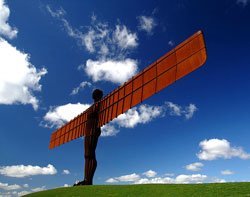 Caroline Theobald works for Connect North East, which links start-up technology companies with potential investors. She says the region has a job to do to show the investment community that there is plenty going on, but is hopeful now is the right time.
"The difference between 1990 and today is phenomenal in terms of physical infrastructure, energy, appetite and the beginnings of an eco-system. Things are beginning to come into place. The region is ready for these funds - sometimes you can have money but not be ready to use it properly."
Community
The advantages of the North East include the sense of community in the business and technology sectors, and the support they receive from one another. Professional networks and government bodies are reportedly generous with advice and help, there are five good universities in the area, and a strong industrial heritage with all the skills and innovation that come with it.
The area's biggest challenge, Theobald says, is the perception that London is the only place to be: it may not be true, but convincing investors and potential entrepreneurs of that is proving a long-term job.
North East technology entrepreneurs have also run up against a few challenges, but it is worth remembering that nowhere is perfect.
Jocelyn Upendran runs Lovle, which provides companies with software enabling them to create e-learning platforms using creative commons content. She says the North East is a better place to do business than most other parts of the UK, but said at the recent North East Girl Geek Dinner event, "The negative side of having a close community is that if you don't agree with something, there are only a few key players in the region in terms of investment. If you are not aligned with them there are not many alternatives. It can be insular and small."
Further investment
The hope is that the Jeremie funds will provide a boost to some of the region's most promising businesses, highlighting the region's potential and talent, and attracting further investment.
Joanna Berry is chief operating officer at Inkspot Science, which provides an online collaboration hub, data storage and analysis tools and cloud-based on-demand resources for researchers and scientists. She is optimistic that some of the area's best small businesses will get the opportunity to receive the investment that will enable them to grow quickly - an opportunity that they might not have otherwise had.
"We have so many people here with great ideas and innovation, but to monetise their ideas they often have to go elsewhere. We are hoping that the Jeremie funding will mean people are not just able to start a business here, but stay here and grow it. That will not only bring further investment to the area, but more jobs and a thriving economy."
Email Alerts
Register now to receive ComputerWeekly.com IT-related news, guides and more, delivered to your inbox.
By submitting your personal information, you agree to receive emails regarding relevant products and special offers from TechTarget and its partners. You also agree that your personal information may be transferred and processed in the United States, and that you have read and agree to the
Terms of Use
and the
Privacy Policy
.