SAP's high-performance analytic appliance (HANA) for in-memory computing is central to the company's immediate plans, says Vishal Sikka, executive board member, technology & innovation at SAP.
"HANA is the foundation of our renewal, the technology at the root of our innovation," Vishal Sikka told attendees of the SAP Sapphire Now conference in Orlando, Florida.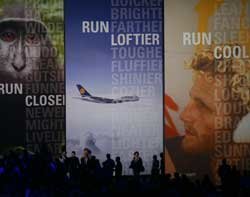 "HANA is enabling a once-in-a-generation kind of transformation and has revolutionised the way we manage data with a 20 times performance improvement over traditional databases," Vishal Sikka said.
Sikka said HANA provides the opportunity to rethink the world of applications, and used a series of video testimonials to highlight some of the pioneering customer successes SAP says is driving the in-memory technology's adoption worldwide, including Colgate-Palmolive, Bosch, Nestle, Lenovo and Nomura Research Institute.
Colgate did a proof of concept on customer sales and profitability analytics for one of its largest subsidiaries. Tom Greene, chief information officer at Colgate, said that for a global business, selling products in more than 200 countries and territories, it is critical to understand sales trends.
"Prior to SAP HANA, we were unable to run full analytics in a reasonable timeframe. With SAP HANA, we will be able to run analytics at a local level on specific brands and locations, and at the lowest level of detail in real time," Tom Greene said.
Juergen Sturm, chief information officer at Bosch and Siemens Home Appliances Group, said SAP HANA provides the tools to perform complex calculations instantly and forecast the impact in any changes to our business.
"Traditionally, this is very difficult to do in a company of our size that deals with diverse channels, dispersed manufacturing and global product sales. Real-time insight into which products are selling and in what volumes, lets us quickly adjust manufacturing and distribution strategies, giving us an advantage against competitors," Juergen Sturm said.
Nomura Research Institute (NRI) is performing tests on large volumes of traffic data using SAP HANA. "The product has enabled us to search through 360m data records in just a little over one second. Now and in the future, speed is the key to adapting to an ever-changing business environment. The speed SAP HANA enables is sudden and significant, and has the potential to transform entire business models," said Akihiko Nakamura, corporate senior vice president, Services & Industrial Solution Division, NRI.
According to a study by Oxford Economics, 30% of the companies surveyed have implemented some kind of real-time IT system, and 65% of the remainder have plans to do so in the near future. The report says early adopters are reporting significant benefits, with revenue gains of 21% and cost reductions of 19% on average.
Email Alerts
Register now to receive ComputerWeekly.com IT-related news, guides and more, delivered to your inbox.
By submitting your personal information, you agree to receive emails regarding relevant products and special offers from TechTarget and its partners. You also agree that your personal information may be transferred and processed in the United States, and that you have read and agree to the
Terms of Use
and the
Privacy Policy
.