The Advocate General of the European Court of Justice (ECJ) has decided that Marks & Spencer infringed Interflora's trademark rights by purchasing the florist's name as a Google AdWord.
His view would reverse a 2009 ruling by the English High Court and if it becomes a final ruling is likely to set a precedent that prevents companies from using rivals' names to send Google users to their websites by clicking on a search-based advert.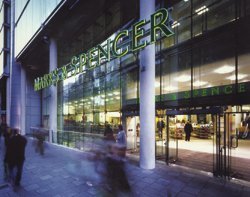 Interflora started legal proceedings when M&S purchased its trademarked name as an AdWord from Google, meaning that users searching for "Interflora" could be presented with an advert that connects them to the M&S website instead.
A 2010 ruling by the ECJ said that Google had not broken any laws by allowing a trademarked word to be sold in this way, but failed to decide whether the purchaser - in this latest case, M&S - was in breach of trademark protection rules.
The new opinion makes it clear that M&S should be liable for trademark infringement, although the proposal is not binding and is subject to a final ECJ ruling.
Fashion group LVMH, owner of the Louis Vuitton brand, won a similar case last year at the ECJ, which ruled it was allowed to protect its trademarks from being used as AdWords, without the consent of Google.
Kirsten Gilbert, a partner at law firm Marks & Clerk, says the decision means firms should avoid using rivals' trademarks for search advertising.
"Last year's Google case established that purchasing a rival's brand name as an AdWord is not trademark infringement per se. But while online consumers are much more informed than 15 years ago, rivals should shy away from using each other's trademarks for their own commercial purposes where doubt or ambiguity as to the origin of the goods or services could arise," she said.
"This [Advocate General's] opinion is based heavily on the particular facts here - namely that the trademark 'Interflora' denotes a commercial network of florists providing certain services and products. However, it will bring some comfort to brand owners that in such situations where members of the public could believe that the competitor is a member of their commercial network, they can prohibit the use of their trademark as an AdWord."
The ECJ will make a final ruling on the case later this year, but is likely to follow the recommendation of Advocate General Niilo Jääskinen.
Email Alerts
Register now to receive ComputerWeekly.com IT-related news, guides and more, delivered to your inbox.
By submitting your personal information, you agree to receive emails regarding relevant products and special offers from TechTarget and its partners. You also agree that your personal information may be transferred and processed in the United States, and that you have read and agree to the
Terms of Use
and the
Privacy Policy
.