Opera is already the browser of choice for 90 million mobile phone users, and co-founder Jon von Tetzchner (pictured) wants to see it on every tablet too.
Speaking exclusively to Computer Weekly at Mobile World Congress in Barcelona this week, Jon von Tetzchner said Opera aims to morph to emerging platforms and devices more rapidly than ever.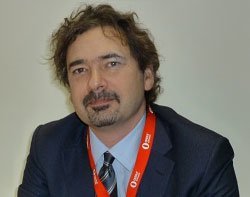 This week Opera signed an agreement to ship the Opera Mini browser worldwide on Qualcomm's Brew MP application development platform. The deal makes Opera available to OEMs (original equipment manufacturers) and ODMs (original device manufacturers).
Consumers will get a desktop-like browser user interface tailored for smaller handset screens. The company said Opera Mini's compression technology allowed this and simultaneously cut data traffic, reducing monthly data costs.
"We're going everywhere with Opera today," said Tetzchner. Showing tablets running Apple iOS, Android, Windows 7 and MeeGo on display, Tetzchner said he's interested in following all flavours of tablet operating system as they develop.
Last week Nokia CEO Stephen Elop soft-pedalled MeeGo in the wake of its tie-up with Microsoft. Von Tetzchner said MeeGo interest stemmed mainly from software engineers who simply liked it, rather than any strong commercial thrust.
Von Tetzchner said the present 90 million Opera users included those who accessed the web from IP TV consoles, set top boxes and games consoles, including the Nintendo DS and Nintendo Wii. "The market for set top boxes is huge and touch is coming to the big screen soon too," he said.
He said the company was providing developers with tutorials on open web standards to get them on the right track.
"We believe that the web should never be controlled by any one company or major group," he said. "As such, we also provide automated testing tools and our website offers articles and information for web developers and software engineers in general. We stand for interoperability and this is why our browser works well even on machines that are 10 years old."
Email Alerts
Register now to receive ComputerWeekly.com IT-related news, guides and more, delivered to your inbox.
By submitting your personal information, you agree to receive emails regarding relevant products and special offers from TechTarget and its partners. You also agree that your personal information may be transferred and processed in the United States, and that you have read and agree to the
Terms of Use
and the
Privacy Policy
.