IBM addresses security fears over cloud computing
IBM is addressing security fears over cloud computing after research revealed security and privacy issues are still the top reasons for not embracing the...
IBM is addressing security fears over cloud computing after research revealed security and privacy issues are still the top reasons for not embracing the model.

Download this free guide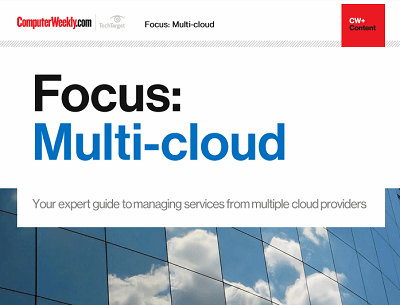 Mixing and matching your cloud options
Many IT leaders are increasingly coming round to the idea that sourcing services from one or more providers might be the best way to go. From a cost and resiliency perspective, some workloads might work better in one cloud over another. Or a certain provider might boast some functionality that suits a particular process the enterprise is looking to implement, but falls short in other areas, prompting the company to adopt a mix-and-match procurement strategy. Join us as Computer Weekly takes a closer look at the multi-cloud approach and what providers are doing to capitalise on the trend.
By submitting your personal information, you agree that TechTarget and its partners may contact you regarding relevant content, products and special offers.
You also agree that your personal information may be transferred and processed in the United States, and that you have read and agree to the Terms of Use and the Privacy Policy.
An IBM global survey of more than 500 IT managers revealed that 77% of businesses think that adopting cloud computing requires privacy trade-offs, 50% worry that clouds lead to data breaches, and 23% fear that cloud computing will weaken corporate security.
To address these concerns, IBM has announced new strategy roadmaps and security assessments, and new hosted services for security event and log management and vulnerability management.
IBM highlighted that it has several cloud security research projects under way, such as its Integrated Trusted Virtual Data Center project to harden infrastructure by isolating more of its components.
Underlying security mechanisms can verify the integrity and correct configuration of infrastructure components, such as hypervisors, to help prevent low-level attacks such as spoofing or deceiving computer systems or other computer users by hiding or imitating one's internet identity, the company said.
Some of those capabilities have been added to the IBM Smart Business Test and Development cloud, as well as to IBM Systems Director VMControl.
IBM said it has added "introspection monitoring" to its IBM Virtual Protection System to detect potential malware attacks from outside the virtual machine.
This extends the approach to virtualisation security of most other current introspection systems, IBM said.
The enhanced system can detect the presence of malicious code or exploits aimed at fooling the virtualised operating systems into granting inappropriate access rights, the firm said.
"IBM understands the 'one size fits all' cloud security strategy will not work for most businesses," said Steve Robinson, general manager, IBM Security Solutions.
"Our enterprise clients are looking for a trusted advisor to provide the right mix of security consulting services and offerings to match. By offering these new services and innovations, we aim to help clients create tailored solutions that will allow them to get the most out of their cloud environments," he said.
Read more on IT outsourcing