Google calls for final approval of Google Books deal
Google has filed a 77-page court brief calling for the approval of a revised...
Google has filed a 77-page court brief calling for the approval of a revised settlement with US authors and publishers that would clear the way for millions of books to be digitised and sold online.

Download this free guide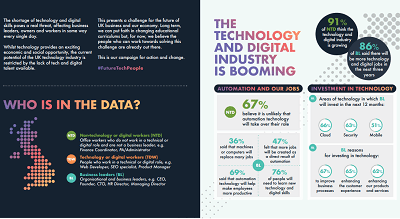 Infographic: Future-proofing UK technology
The current potential of the UK technology industry is restricted by the lack of tech and digital talent available. Read through this challenge for the future of UK business and our economy.
By submitting your personal information, you agree that TechTarget and its partners may contact you regarding relevant content, products and special offers.
You also agree that your personal information may be transferred and processed in the United States, and that you have read and agree to the Terms of Use and the Privacy Policy.
The brief dismisses the monopoly and copyright concerns of the US Department of Justice (DoJ) and opponents of the agreement.
The document also urges US District Court judge Denny Chin to approve the revised settlement in a hearing scheduled for 18 February.
The original October 2008 agreement between Google and the Authors Guild and the Association of American Publishers was revised in November 2009 in response to DoJ concerns over copyright.
Google said the amended agreement is fair, reasonable and adequate, and the court should grant the motion for final settlement approval.
But the DoJ, the National Writers Union, the American Society of Journalists and Authors and the Science Fiction and Fantasy Writers of America said the amended version is also no good.
Google said in the court brief that the purpose of copyright law is to promote the creation and distribution of expressive works, and the amended agreement "advances this purpose as much as any case or agreement in copyright history".
The Open Book Alliance, a group of authors, publishers and Google rivals opposed to the settlement, said Google has offered only cosmetic changes to its amended settlement.
"The arguments it now offers to defend the amended settlement are the same arguments that have been rejected by the Department of Justice twice," the group said.
The Open Book Alliance claimed the amended settlement would still offer Google exclusive access to books it has illegally scanned, to the detriment of consumers, authors and competition.
The Institute for Information Law & Policy has also expressed concerns that, if approved, the settlement will set a dangerous precedent and undermine democratic political processes.