Cloud computing unfamiliar territory for IT heads
IT heads not in the cloud
Over half of European IT heads within businesses do not understand cloud...
IT heads not in the cloud
Over half of European IT heads within businesses do not understand cloud computing, although the method of delivering IT is about the biggest hype in the IT industry.

Download this free guide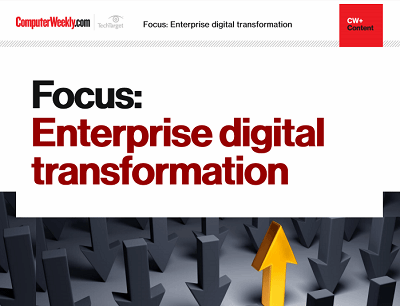 Are you digital to the transformation?
Digital transformation - the buzzword that we can't get away from. Enterprises need to accelerate their digital transformation journeys to avoid being left behind in an increasingly digital world. It's not an easy feat, but one that can be costly to get wrong. Join us as Computer Weekly takes a look at how businesses can stay on track through collaboration, innovation, and listening to user needs.
By submitting your personal information, you agree that TechTarget and its partners may contact you regarding relevant content, products and special offers.
You also agree that your personal information may be transferred and processed in the United States, and that you have read and agree to the Terms of Use and the Privacy Policy.
But if this changes the take-up of cloud computing will explode because the research shows that those that are familiar with cloud computing are already implementing it.
In a survey of 350 IT heads across Europe, carried out by Portio Research for communications supplier Colt, 56% were not familiar with cloud computing.
This shortfall is holding back adoption because three-quarters of those that are familiar with cloud computing said they were currently rolling it out.
The public sector was the least informed about cloud computing, with only 37% of IT decision-makers saying they are familiar with cloud computing.
Clear advantages
Suppliers need to be clearer about the advantages of cloud computing, according to Maggy McClelland, managing director of COLT Managed Services, She said there is a lot of hype around cloud and this can blur the real facts.
"The opportunity is clear: exponential growth of cloud services will happen, but only if the industry makes large strides in improving levels of knowledge among IT decision-makers."
The financial services industry is an example of a sector that is holding back from investing in cloud computing because of uncertainty.
A recent survey carried out by think-tank, The Financial Services Club, said firms' reluctance is that cloud computing is being driven by suppliers and not market demand.
"The reason why people are not going out to cloud computing, apart from economic reasons, is that we get sold at a lot by consultancies and vendors," said one survey respondent.
Read more on Operating systems software