A criminal gang has been sentenced to 13 years in prison after being found guilty of using a sophisticated trojan computer virus to steal hundreds of thousands of pounds from UK bank accounts.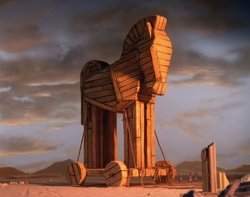 Five members of the gang had earlier pleaded guilty at Southwark Crown Court.
The arrests followed a series of raids in South-East London by, more than 50 officers from the Metropolitan Police's Central e-Crime Unit (PCeU), local boroughs and Specialist Crime Directorate in April/
The gang, which targeted financial services organisations, is believed to have its origins in eastern Europe. It had been using servers in countries across the continent to spread the virus.
The criminals used malicious software to steal money from UK victims' bank accounts and transfer it to other money laundering accounts set up and controlled by the gang. They recruited 'money mules' to launder the money through their private bank accounts.
Detective constable Kevin Brocklesby from the PCeU said, "This was a complex investigation which certainly involves other people in Russia, but there was a clear structure to the organisation in the UK."
He said that plenty of people in the UK were willing to assist the gang by accepting money into their accounts, without asking questions. "They are a crucial cog in this kind of criminal machine," he said.
The ACPO lead for e-crime, assistant commissioner Janet Williams, said, "Due to effective partnerships with the financial industry we have successfully closed down an international criminal network and reduced the financial harm to institutions and thousands of UK victims by millions of pounds."
How the 'man in the middle' attack worked
Victims would inadvertently download the Trojan, which would wait until the customer logged on to their online bank account.
The virus would call out to a server and request a fake banking page to be inserted into the customer's online session, requesting personal banking data.
The virus retrieved a sort code and account number used by the gang and created a new payee on the customer's account without their knowledge.
Later on that day a third party would access the account and transfer the available funds to a 'mule' or 'dump' account.
The criminal network withdrew the stolen cash over the counter at various bank branches using the recruited 'money mules'.
The mule was given their cut, which was usually much less than agreed.
The gang sent the money back to eastern Europe and Russia via money transfer bureaux.
Email Alerts
Register now to receive ComputerWeekly.com IT-related news, guides and more, delivered to your inbox.
By submitting your personal information, you agree to receive emails regarding relevant products and special offers from TechTarget and its partners. You also agree that your personal information may be transferred and processed in the United States, and that you have read and agree to the
Terms of Use
and the
Privacy Policy
.