Where does Micrsoft/Nokia deal leave WiMo?
Analysts have welcomed the news...
This Article Covers
RELATED TOPICS
Analysts have welcomed the news that Microsoft will port its Office applications to Nokia's Symbian operating system as a good deal for both firms, but say it leaves unclear the future for Windows Mobile.

Download this free guide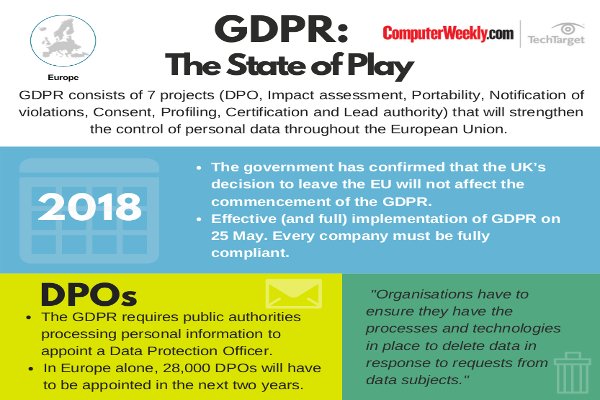 Infographic: GDPR - The State of Play
Get the latest information on how GDPR is going to affect your business and how to avoid any unwanted fines with this simple infographic.
By submitting your personal information, you agree that TechTarget and its partners may contact you regarding relevant content, products and special offers.
You also agree that your personal information may be transferred and processed in the United States, and that you have read and agree to the Terms of Use and the Privacy Policy.
Canalys analyst Pete Cunningham said the deal would give Nokia's business-oriented E-series phones greater traction in enterprise clients, posing problems for Research in Motion, the current market leader.
Nick Jones, research vice president at Gartner, agreed, saying the deal lent Nokia more credibility among CIOs looking to develop a unified communications environment.
"It's also a good deal for Microsoft's server side businesses such as Exchange and SharePoint because they will be selling more mobile licences," he said.
Cunningham said the deal "insulated" Microsoft somewhat against Google's predations on its market share in almost all its markets. Jones said it strengthened Microsoft's position against firms that are developing unified communications offerings, such as Cisco and Google.
Both analysts agreed that it was bad news for Microsoft's Windows Mobile team. "Being only fourth in the mobile operating system stakes, WiMo has been a disappointment," Jones said.
Cunningham said the overall mobile phone market was slowing and Microsoft's market share was suffering. "This deal weakens WiMo's differentiation against other operating systems," he said. "I doubt version 6.5 has the innovative qualities needed to bring the customer back."
Both analysts said the deal was unlikely to affect Nokia's interest in Maemo, its Linux-based open source operating system venture with Intel.
"I can't see Nokia making radical changes to its plans for Symbian in the near future because of it," said Cunningham.
Both thought Nokia might use Maemo for a future netbook with telephone capability. "That would be a logical step," said Cunningham, "but they should launch it sooner rather than later to catch the market."
Jones said no-one had yet hit the "sweet spot" between the notebook and the Nokia N97-type phone with qwerty keyboard. "The problem is that anything bigger that an N97 doesn't fit in your pocket, and you need a decent screen to run some of those big spreadsheets or prepare PowerPoint slides," he said.
Canalys is running a conference on Netbooks vs Smartphones at Heathrow on 17 November. Join the Computer Weekly debate.
Read more on E-commerce technology