UK Plc only just managed to keep going during the snow storm earlier this year. Many organisations are using a home-working strategy to cope with the swine 'flu epidemic.
But the concern is that the reality of the swine 'flu epidemic will be worse than the snow storm. There will not be enough bandwidth to cope, due to contention ratios and exchange overload.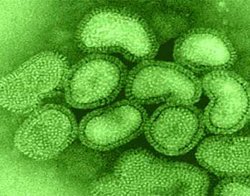 Executives using their home router to access the office will very likely be subject to contention issues. If everyone else is working from home, broadband access may be unusable. School children downloading videos and games at home will not help and local exchanges will be vulnerable to bandwidth constraints when thousands of people are uploading and downloading large files from e-mail, voice and video meetings.
Many organisations are planning for a percentage of their workforce not being able to come to the office, due to the illness. However their assumptions may be unrealistic. Potentially less than half your work force may appear due to:
People who are genuinely ill
People who think they are "coming down with something"
People who need to look after children (due to school closure)
People who need to look after sick relatives
People who are scared to go to work in case they catch swine flu from someone else using public transport
People who are pregnant or have old people at home and don't wish to expose them to the disease
People who normally use public transport may find restricted access with fewer bus and train services due to transport workers taking time off work for the reasons above
People who drive may not have sufficient petrol due to station closures due to epidemic-related causes and sufficient petrol in the petrol station itself.
This article draws on interviews with Bob Mann, CISO for DHL and Dr Nigel Brown, Lead for Resilient Telecommunications Strategy for the Cabinet Office with SecurityVibes, an online networking service for security professionals.
Dr Nigel Brown's podcast interview is available here.
Potential Breaches Caused by Pandemics can be read here.
Ben Chai is chief editor of SecurityVibes.
Email Alerts
Register now to receive ComputerWeekly.com IT-related news, guides and more, delivered to your inbox.
By submitting your personal information, you agree to receive emails regarding relevant products and special offers from TechTarget and its partners. You also agree that your personal information may be transferred and processed in the United States, and that you have read and agree to the
Terms of Use
and the
Privacy Policy
.