. . . And Whiptail's commodity drives that aren't
Whiptail is another all-flash array vendor. Unlike Violin Memory it doesn't mince any words about being an SSD vendor or not.
It sells hardware that ranges from 3 TB to 72 TB; a head/controller on top of Intel 2.5″ MLC drives. Its software provides buffering intelligence that deals with flash wear issues and RAID levels 0, 5, 6, and 10 are available.

Download this free guide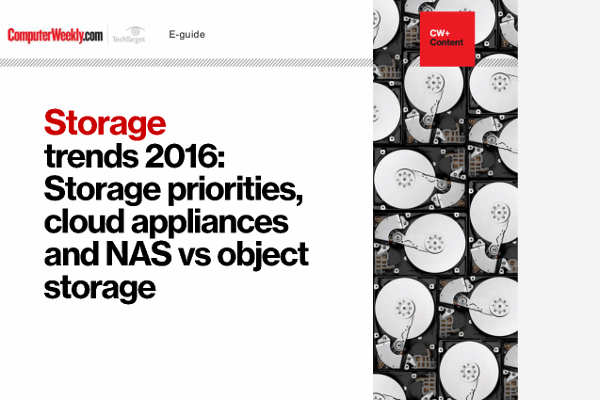 Storage trends 2016: Storage priorities, cloud appliances and NAS vs object storage
Our guide to the latest shifts in the Storage to-do list for IT departments, cloud appliance providers, and what to do with large volumes of unstructured data
By submitting your email address, you agree to receive emails regarding relevant topic offers from TechTarget and its partners. You can withdraw your consent at any time. Contact TechTarget at 275 Grove Street, Newton, MA.
You also agree that your personal information may be transferred and processed in the United States, and that you have read and agree to the Terms of Use and the Privacy Policy.

In conversation with Whiptail EMEA VP and general manager Brian Feller he made a point of stating that the vendor uses "commodity drives". Here's how the conversation went after that.
Me: "Commodity drives, you say? So, I could buy drives from anywhere, as a commodity, and use them in a Whiptail array?"
Brian: "No. You have to buy them from us or you invalidate the warranty because we quality assure them. We remotely monitor all our arrays so we'd know, and we'd also cut technical support."
It's quite remarkable that "commodity" can come to mean "a product you can only buy from one company." It's also staggering that Whiptail sees the need justify this on the need to QA drives from Intel. It's not like they're some SE Asian white box no-name vendor.
But that's the world of storage, which sometimes feels years behind other areas of IT in terms of customer lock-in.
(For blog posts before mid-September2012 see UK Data Storage Buzz.)