mrallen - Fotolia
Ditch witch brings FTTP broadband to Highland hamlets
Openreach has been testing new network design techniques, and a brand new digger, as it rolls out full fibre broadband to some of the UK's remotest communities
Openreach has been testing out new techniques for building fibre-to-the-premises (FTTP) broadband networks in a project to bring ultrafast services to the area around Skerray and Altnaharra, some of the remotest hamlets in the far north of the Scottish Highlands.
A little over 100 homes and businesses in the area can now order an FTTP broadband service of up to 330Mbps, but until comparatively recently, Openreach would have baulked at the cost of serving rural communities such as Skerray and Altnaharra with either FTTP broadband or its slower fibre-to-the-cabinet (FTTC) cousin.
Even so, according to Steve Wood, senior director for the Openreach chief engineer's office, the dig was "not cost-justified". He said the area was chosen precisely because it was so hard to serve with fit-for-purpose broadband.
Robert Williamson, Openreach FTTP delivery lead, agreed that even though FTTP is becoming more cost-effective all the time, there was still little commercial basis for choosing to construct such a small network. However, he pointed out, at some point the remotest parts of the UK will have to be connected.
"What we are endeavouring to understand here is, when that time comes, is FTTP the best option?" said Williamson.
From the beginning, the build was designed to serve primarily as a testbed to show how using new network building techniques can help deliver ultrafast FTTP broadband services to the remotest rural communities without government assistance through projects such as Superfast Scotland.
Wood added: "We have an R&D budget for trials for different technologies and Bettyhill [the local exchange] in particular was a service headache, the reason being the copper cable feeding the area fed across an estuary and a beach, and crossed the tidal part of the beach, so it's very prone to lightning strikes.
"Every time there was a thunderstorm, it would be hit and the area would lose service. Rather than throw good money after bad, we thought: why not get some prep for fibre deployments in these areas?"
Enter the ditch witch
Having received the green light, Openreach moved ahead with the dig using a new lightweight digger referred to as the ditch witch (pictured below).
Appearing to the layperson as something akin to a quad bike with a chainsaw attached, the ditch witch is designed to gouge out a 4in wide trench in the verge by the side of the road. This was important in the far north of Scotland because many roads in the area, even A-roads, are single-track lanes, which makes closing them for extensive digging work extremely inconvenient for locals, and possibly even dangerous if there is an emergency.
Openreach engineers then buried an armoured fibre cable directly into the trench, filled it back in again, and created pick-up points along the new spine for customers to dig into if they wanted to take up the service.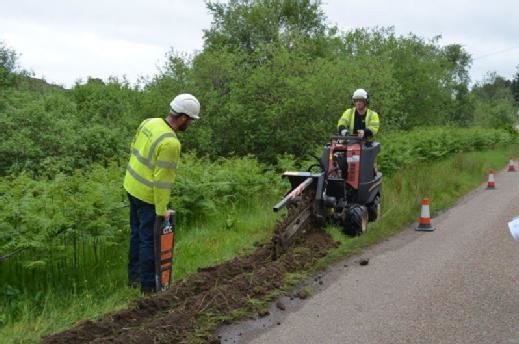 The decision to use FTTP in Skerray and Altnaharra involved a complex series of calculations to weigh up the financial benefits and risks.
A more traditional FTTP network build would have involved building new duct infrastructure, which would have needed burying deeper and taken longer – just one way that using the ditch witch actually helped de-risk the build, said Wood.
Also, it is highly unlikely that enough people will ever move into the area to make it necessary to blow more fibre along the duct to serve them, so a single 36-strand fibre cable should suffice for many years to come. Openreach hopes this will yield long-term savings from not having to return to the area. The remoteness of the area will also help bring down long-term maintenance costs for Openreach, because fibre breaks are more common where there are more people and more building work going on.
And although Openreach could have gone down the FTTC route and relied on copper to bridge the last mile into local homes and businesses, the cost of standing up a cabinet, and its ongoing running costs, were also a big factor because there are so few potential broadband customers in the area.
Williamson and Wood said they already planned to take some of the learnings from the Skerray and Altnaharra dig and apply them to other future projects, particularly those that Openreach is running through community fibre partnerships.
Customer experience
A few miles from Skerray, in the hamlet of Altnaharra – which jointly holds the record for the lowest recorded temperature in the UK (-27.2⁰C on 30 December 1995) – local businesses are already taking advantage of the upgraded network.
Becy Robertson, manager of the 17th century Altnaharra Hotel, chose a BT Business service capable of delivering 80Mbps down – a huge leap from her previous 0.5Mbps service.
"Our original broadband was truly snail's pace – we had a hub in the office and guests would sit in the library beside us trying to get connected," she said. "We'd have a group of cyclists all trying to update their online blogs, while office staff could not even print a menu. We were constantly trying to juggle the various demands for bandwidth and we were constantly over our data limits.
"We installed a satellite service and were able to extend that to guests, but with our location close to Ben Klibreck [a local mountain], it was not ideal.
"We now have fibre in the office at speeds of around 80Mbps and it makes a big, big difference. We do all our banking online, and can now do this whenever we like, rather than waiting for a quiet time of day when bandwidth is available."
Robertson added: "Our booking process has improved dramatically, as we can now update online availability in real time when we take reservations over the phone. Our chef can scout around the internet without upsetting the daily running of things, so it all helps. And we now have Wi-Fi available around the hotel, which will be greatly welcomed by our guests."
Read more about broadband
At the 36,000-acre Altnaharra Estate – which is one of the district's larger employers and has a wide range of business interests, including deer-stalking and fishing, forestry, holiday cottage rentals and renewable energy – estate manager Pieter Bakker had endured an even slower connection than the hotel. He enlisted his estate workers to help Openreach dig in the cables and provided a storage compound for the ditch witch and other vehicles.
Having chosen the same 80Mbps service as his neighbours, Bakker said the connection had proved extremely helpful for both business and for personal use by his wife and children.
"The difference the fast connection has made is massive," he said. "For the first time, I can download and upload documents and forms from business-relevant websites, like the Scottish government's Rural Payments and Inspections Division and Scottish Natural Heritage, and send emails in seconds.
"It's made all kinds of online paperwork easier. Previously, I'd spend hours trying then checking to see if my message or form had eventually been sent – often not. Despite having two separate connections, no one else could be online at the same time as it would totally grind to a halt, which often meant working at night to avoid an internet freeze."
Bakker added: "Now I can check things like weather forecasts and river levels instantly. Sending images and files has proved hugely successful and is saving time all round. It also means I don't have to limit anyone else in my household from using the internet.
"We are also installing high-speed connections into the Lodge and two holiday cottages on the estate – it's always one of the main questions asked when our guests arrive, and until now it's been impossible."
Read more on Telecoms networks and broadband communications