nd700 - stock.adobe.com
Hovis boosts job applications after HR tech roll-out
Baker and flour miller expects a quick payback from HR technology project
Baking and flour milling group Hovis has reported an increase in the number and quality of people applying for jobs after deploying company-wide HR and recruitment software.
Hovis, which owns brands such as Mother's Pride, Ormo and Nimble, is using cloud-based technology to recruit job seekers directly through its own website, cutting its reliance on external recruitment agencies by half.
The group, which has a workforce of 3,800, has replaced a range of incompatible HR systems and paper forms with cloud-based technology, in a project that is already producing a return on investment.
"All of our recruitment was through external agencies; we have taken that to 50/50 now," says Dominic Howson, supply chain planning and IS director at Hovis. "We now have a stream of CVs coming in and a talent pool of 4,500 people who have registered their CVs on the website."
Previously, the company's HR relied on Lotus Notes, which had limited capabilities, to track job applications.
Hovis, known for its iconic TV advert in the 1970s featuring a delivery boy pushing a bike up one of Britain's steepest streets, took a strategic decision to replace on-premise IT systems with cloud-based alternatives when it became a joint-venture company in 2014.
Hovis is now majority owned by US private equity firm the Gores Group, which has 51% of its shares, while Hovis' former parent company, Premier Foods, retains 49%.
"I agreed with the new owners that we would take a predominantly cloud-based route and not buy any assets, no tin [hardware]," says Howson. "Whether it's private or public cloud or software as a service, that was the direction I wanted to take."
"Whether it's private or public cloud or software as a service, that was the direction I wanted to take"
Dominic Howson, Hovis
Hovis began its separation from Premier Foods by "cutting and pasting" its Premier Foods SAP system and moving it into a private cloud built on IBM's AIX operating system. It hired SAP specialist Edenhouse Solutions to provide IT support.
Hovis had made its first move to the cloud by switching its email to Gmail while the company was still fully owned by Premier Foods and had begun looking at possible HR cloud services.
After evaluating various options, Howson chose SAP's SuccessFactors, largely because of its ability to integrate with the company's SAP payroll systems.
Hovis, which runs eight bakeries, six flour mills and two regional distribution centres in the UK, reorganised its HR operations before going live with the new software.
It created a central HR service at is headquarters in High Wycombe. The savings were enough to cover the estimated £300,000 annual licensing costs for SAP SuccessFactors.
Raising support
The company spend five months preparing for the new systems, including talking to the workforce, managers and trade unions to garner support for introducing the software.
"We did not start immediately," says Howson. "We had a lot of communications. We had three unions. The message was: this is good news, this is giving more transparency, more openness."
Hovis signed a contract with SAP SuccessFactors on Christmas Eve 2014 and began implementation in May 2015. It hired Edenhouse Solutions on a fixed-price contract to deploy the technology.
One of the challenges was cleaning the master data, to accurately record who reports to whom, and who is in what role, and to delete all the HR records belonging to staff at Premier Foods.
The company rebranded the software as MyHovis, distributed posters and leaflets around its factories, and sent a letter to every employee with their log-on details.
Nearly 60% of the Hovis workforce did not have access to IT systems at work, so the company built kiosks equipped with tablets and thin client computers to allow them to access their HR systems.
How HR IT has helped Hovis recruit employees
More than 30,000 visitors to Hovis careers website in three months
Average of 13 new candidates registered each day during the first four months
Created a "recruitment pool" of 4,500 people
6,639 applications received for 206 jobs posted
Staff can also log on to MyHovis from home or from mobile devices to change their personal details, book holidays, or check job vacancies in the organisation.
The website also gives workers access to the Hovis "rewards gateway", which offers benefits such as discount vouchers for retail outlets and free cinema ticket offers. "It gets them to use the system," says Howson.
Managers can approve holidays and job requisitions, and manage the "on-boarding" of new employees. "The whole premise was making HR available 24/7," says Howson.
"We have a standard process across sites. We have an on-boarding module, so people can be productive on day one."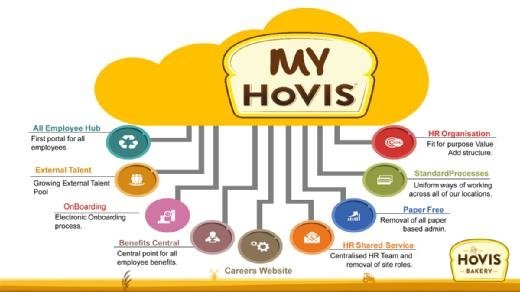 The system, which is believed to have cost about £500,000, has made it easier for the company to plan shift work. Staff can now book leave online, rather than by filling in paper forms.
"Labour planning is really critical," says Howson. "We can flex up our workforce, for example when we have a promotion or a launch."
The system has enabled managers to view the company's organisational structure for the first time, making it easier to locate people.
Project challenges
Howson said it was important that the HR department led the project, rather than IT, which played a supporting role alongside Edenhouse.
The company trained two HR managers who had worked with the company's on-premise HR systems to become experts in SuccessFactors.
One of the challenges was getting the business used to quarterly updates of the SuccessFactors software. "That was a big mindshift," says Howson. "If you used HR and payroll, you had the same interfaces for 10 years."
Howson chose to train people from different areas of the business outside of IT to become "super users" who would help and inspire other employees to use the system.
"Keeping the super users network alive is really hard, but now we have a network of SuccessFactors experts," he says.
For example, at its head office, Hovis has chosen an accounts clerk, a marketing person and a financial analyst from the milling part of the business to be trained as super users.
Slicing data
Hovis plans to extend SuccessFactors to make it easier to manage the performance and goals of its workforce, succession planning, and talent management.
Until now, the company had used Google Apps for personal development reviews, but the system had limited reporting abilities. "Wherever we did not have a system, we did it on bits of paper," says Howson.
Read more on HR technology
If you can't get your internal HR systems right, the business will suffer – Jaguar Land Rover, Lufthansa and Russia's Sberbank explain why
CPA Global, one of the world's largest patent advisers, is replacing "horrific" human resources technology with a cloud service as it prepares for Europe's new data protection laws.
Businesses are using Fitbits, artificial intelligence and chatbots to improve working life as competition increases to recruit talented millennials.
In the future, managers will be able to use the database to identify staff who are prepared to move – to fill vacancies in other parts of the country, for example.
"We will be able to identify high-potential people, skills gaps, and where we have vacancies," says Howson.
The software will enable the company to extend its performance management from 500 senior managers to front-line managers throughout the organisation. "It's about driving performance culture throughout the organisation," he says.
"Hovis is another organisation demonstrating the potential and business impact of moving its HR processes and systems to the Cloud" says David Wilson, CEO of HR analyst Fosway Group.
"Hovis also reflects the reality of many UK and European businesses; fragmented systems which have slow or unable to change to reflect new priorities for HR as well as new technologies for IT, " he said.
Icing on the cake
Howson says that if he was completing a similar project in the future, he would co-ordinate the work more closely with the release cycles of SuccessFactors updates.
"We were ready to go live in November 2015; then there was a big change and we had to put it back," he says.
The update also meant Hovis had to rewrite its training materials. "We wrote all the training material before the new release, then we had to write them again," says Howson. "Keeping the training materials up to date is really important."
Analyst David Wilson says: "The cost of ownership profile of Cloud systems is very different to on-premise systems. Not just in terms of IT licensing costs but in terms of HR and IT resources,support model, governance and process improvement. It is critical to focus on the business goals and outcomes of these projects, not just the IT outcomes."