Mark Carrel - Fotolia
The digital opportunity for CIOs
CIOs have a unique opportunity to lead the digital strategy in their organisations, but they have to move quickly to make sure they have the right skills and infrastructure in place
Digital is a word CIOs hear constantly nowadays. Some see it as an opportunity or an enabler, while others see it as a threat or disruption. But what is vastly underestimated is how it provides a unique opportunity for the CIO to show leadership like never before.
Each year, Deloitte publishes a global CIO survey, which looks into the perceptions, priorities, opportunities and challenges of technology leaders around the world. The 2016-17 report aims to better understand the impact and legacy of the role, meaning the value and impact technology leaders deliver to their organisations.
In 2016, Deloitte received responses from more than 1,200 CIOs across 48 countries. Over a quarter of UK respondents were from the FTSE 250.
One of the problems the survey uncovered is that many CIOs and business leaders still have an unhelpfully narrow view of what digital actually means, and the opportunity it presents. Deloitte's data and interviews have shown that many still view it as essentially customer-facing, front-end tools and technologies – what Deloitte refers to as only the tip of the "digital iceberg".
Underneath this surface is an underpinning structure of other critical areas, including legacy or core modernisation and investments, infrastructure consolidation, cyber security, and data and analytics tools. And as digital has matured, it should include a number of emerging technologies too, such as predictive analytics and machine learning, the internet of things (IoT), robotics, cloud, cyber and mixed reality (augmented and virtual reality). Digital is shorthand for these technologies as a collective.
Digital technology is also reshaping how work gets done. In the same way, it can improve the customer experience and make the employee experience more interesting, productive and efficient. Digital is therefore a mindset, where technology fundamentally transforms activity and shapes future business models, helping enter new markets and develop new products and services.
This requires embedding technology in every facet of every business, and demands a fundamentally different and exciting role for CIOs. Adopting this broad view of digital can allow CIOs to not just respond to changing business needs, but to actively shape and drive them.
The skill and expectation gap
Yet if CIOs are going to drive this digital transformation, they must develop and improve their digital abilities and investments. More than a quarter (28%) of technology leaders in Deloitte's survey ranked their IT organisation as below average in digital skillsets, especially customer and digital experience and analytics. Two out of five CIOs said they were underinvesting in emerging technologies and analytics. That's pretty surprising for a function that is supposed to be leading the technology agenda.
In fact, 57% of CIOs reported that the business expects them to assist in business innovation and developing new products and services, but over half stated that innovation and disruption priorities currently do not exist or are still in the process of being built. Similarly, 61% identified cyber security as a core expectation because it's only 10% of CIOs cited cyber security and IT risk management as a top business priority. It's important that technology leaders either look to close or manage this gap in expectation. It's damaging for everyone's perception of the CIO role.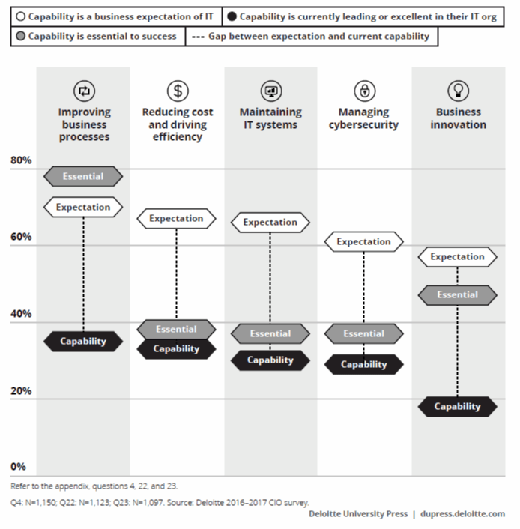 In a separate study conducted by Deloitte and the MIT Sloan Management Review, 87% of executives responded that they believed digital technologies would disrupt their industry. Only 44% of those same executives said their organisation was adequately preparing for these looming digital trends.
Digital has become a rallying cry for a wide variety of opportunities, but each organisation has a different focus and set of digital priorities. Within a company, different executives are likely to prioritise a digital agenda closest to their individual function.
In that dichotomy, CIOs can find both great threat and great opportunity. On the downside, inadequate preparation for digital disruption could be interpreted as an indictment of the CIO and broader IT organisation.
Left to their own devices, functional leaders will likely tackle each of the three opportunities in independent ways. For example, the chief marketing officer might just concentrate on the customer, the chief financial officer might just concentrate on the use of analytics for management insight or financial reporting, and the chief operating officer might just look at digitising parts of the supply chain. But while digital might help that leader's particular function, overall, it can add to poor investments and jeopardise broader adoption patterns more widely for the business.
But all these areas share a strong technology underpinning. The CIO is therefore positioned to visualise the digital "big picture", and help guide investments that build the right mix of technology skills, architectures and delivery models. They can help avoid costly and siloed expenditure or, even worse, conflicting solutions. Common approaches to security, reliability and scalability can be enforced by the CIO and their team.
In many ways, it's inevitable that as the speed of technological change moves so quickly in the consumer space, different parts of the business will take it upon themselves to start looking at their own digital technology. This is often referred to as "shadow IT".
A good CIO, however, doesn't try to police and block these behaviours. They are a partner that the business turns to. As the department with arguably the strongest IT skills, shouldn't the executive in charge of technology be leading the charge?
Be a co-creator
In its 2015 survey, Deloitte unveiled three legacy patterns for CIOs: trusted operators, change instigators and business co-creators. While the patterns are fluid and there's no ideal state, the business co-creator role is particularly key for stepping back and driving the wider digital agenda.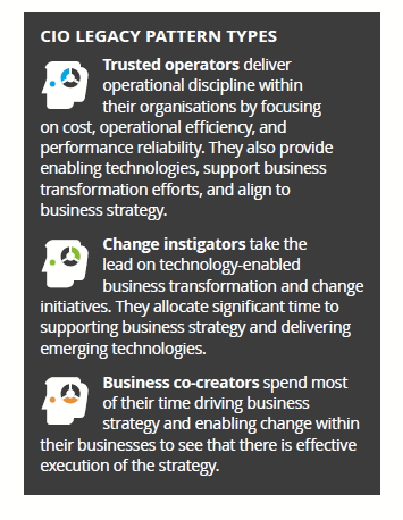 Business co-creators spend less of their personal time building technology platforms and running operations, and more time focusing on communicating with and influencing the rest of the business.
The positive news is that the majority of CIOs (66%) in the 2016/2017 survey want to embody this role. The desire is clearly there, but only a third (34%) feel they are right now.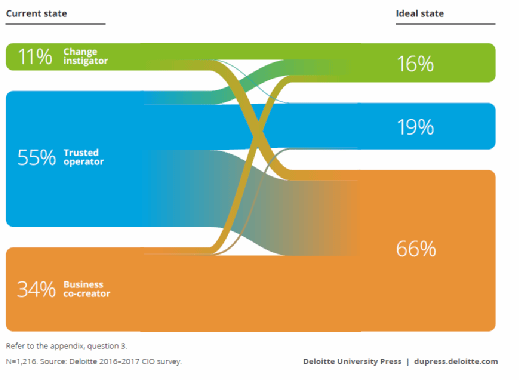 Digital presents a challenging and exciting time for CIOs as they navigate business needs around digital technologies. CIOs can forge the path forward. This is not by land-grabbing all facets of digital from individual executive sponsors, but by playing the role of conductor and gathering all of the separate initiatives into one shared technology strategy. Today's CIOs should be taking up this challenge, not just for themselves and their IT teams, but for the business overall.
---
Mark Lillie is global CIO programme leader at Deloitte.
Read more on CW500 and IT leadership skills