Artur Marciniec - Fotolia
No barrier to trial in UK, Lauri Love extradition hearing told
British hackers, including members of Anonymous, have been tried in the UK, despite causing serious damage to US computer systems, a court hears
Computer hackers have been tried in the UK despite their alleged victims being based overseas, an extradition hearing was told yesterday.
Engineering student and "hacktivist" Lauri Love is fighting a US request to extradite him to face trial in three states over allegations of hacking into the US federal bank.
A hearing at Westminster magistrates court was told that that a co-defendant, Justin Soake, had been tried in Australia on a charge of having unauthorised access to data.
Love's lawyer, Ben Cooper, said he too could be tried in his home country, rather than in US courts, because any hacking was alleged to have taken place in the UK.
Cooper also referred to the prosecution of hackers belonging to the Anonymous group for allegedly hacking into various sites, including News International and Sony.
He also described the case of Seth Nolan-McDonough, who was convicted at a UK crown court. The judge considered Dolan-McDonough's mental health problems in sentencing him to 240 hours' community service for what was described as "the biggest cyber attack in history".
Cooper said that although the targets in that incident were US companies that "suffered substantially", the case was heard in the UK.
He told the court that in 31-year-old Love's case, there was no alleged financial harm to any victims.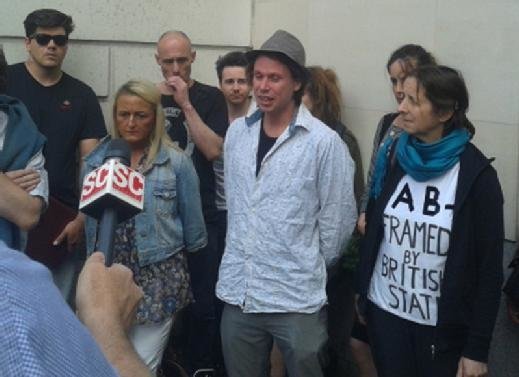 However, computer systems could be the targets of "hostile governments", said Cooper, who added: "It's thankful for the companies that they did not get there first and Love alerted the authorities to how damage could occur."
Cooper said the case could easily be heard in the UK because it involves evidence from computers that is "frozen accurately in a digital highly moveable form".
Mental health problems
Love has severe autism and has suffered serious mental health problems, including a breakdown, the court was told.
He also lost his hair after his family moved home when he was 15 and an attempt to live in Finland ended when he was prescribed antidepressants.
Cooper said experts who had assessed Love expected him to face depression and he would be at risk of suicide if he were extradited to the US.
He claimed the US prison Love would be sent to would not be able to cope with his mental health needs.
Placed on 'suicide watch'
At an earlier hearing, the court was told Love would be placed on suicide watch as soon as he arrived at a US prison and that could not be continued indefinitely, Cooper said.
Director of the Autism Research Centre in Cambridge, Professor Simon Baron-Cohen, told the court Love suffers from a severe disability from the severity of his Asperger's syndrome, which leads him to neglect his health when he becomes consumed by his current interest.
Cooper pointed out that the then home secretary, Theresa May, considered the matter of suicide risk when she blocked the extradition of hacker Gary McKinnon.
Cooper said Love had just completed his first year at university, where he had done extremely well, and he was teaching and making progress in coping with his condition. This progress could be destroyed if he was extradited, said Cooper.
The court heard there were no co-defendants and it was practical to hold hearings in the UK. Cooper also pointed out that Love could face a disproportionately severe sentence if he were convicted in the US, rather than the UK.
NCA tries to force disclosure
At an earlier hearing, district judge Nina Tempia rejected a bid by the National Crime Agency to compel Love to hand over any encryption keys to his computer, which was seized by police at his Suffolk home.
The activist had argued that any order to compel him to hand over any keys would breach his right of freedom of expression under the Human Rights Act.
Love has called for the return of five computers taken by police.
He was supported at the hearing by his parents, who work as a prison chaplain and prison teacher.
Love will learn the court's decision on 16 September, when his case against the National Crime Agency will also be set down for mention.
Read more on Hackers and cybercrime prevention