dim4ik69 - Fotolia
Mobility tops 2016 priority list for Middle East IT leaders
Mobility projects will be the most common IT initiative among Middle East organisations this year, according to research from Computer Weekly
Mobility will be a broad initiative for 43% of IT leaders in the Middle East in 2016, according to research from Computer Weekly.
The most common mobility project among is deploying mobile applications, with 54% of that 43% planning a project in this area. Other popular mobility projects included implementing bring-your-own-device (BYOD) schemes (46%), enterprise mobility management (46%) and deploying a mobile enterprise application.

Download this free guide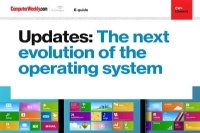 Unpacking the future of operating systems
In this e-guide, we take a look at how updates are the next evolution for operating systems. From security and iris recognition to 3D modelling and easier recognition with OneDrive, updates are key to keeping your device fresh and, most importantly, safe.
The research found the most common type of security project IT leaders in the Middle East had scheduled for 2016 involved securing mobile endpoints, such as iPhones and Android phones.
Although the wearables market for the Middle East and Africa (MEA) is forecast to grow by 56% between 2016 and 2019 according to IDC, only 4% of Middle East IT leaders surveyed by Computer Weekly planned such a project in 2016. A similarly low priority is deploying mobile devices for IoT, which only 4% of Middle East IT leaders were planning for.
Middle East IT leaders are confident of significant IT budget increases. According to the survey, 29% of IT leaders in the Middle East expect their IT budgets to increase by more than 10% in 2016, while 29% think it will increase between 5% and 10%. A total of 5% said the IT budget will increase less than 5%, while 19% expect it to stay the same. Only 11% expect it to fall.
Read more about Middle East enterprise IT
Other initiatives Middle East IT leaders were planning included big data and business analytics (32%), datacentre consolidation (32%), software-defined datacentres (29%) and unified communications (29%).
Some 34% of Middle East IT leaders plan to carry out datacentre projects, and 39% are migrating to Windows Server 2012.
Read more on Tablet computers