Gajus - Fotolia
NHS trusts to self-assess their digital maturity
NHS England has launched a digital maturity assessment to find out how far trusts have come in having meaningful use of digital clinical systems
NHS trusts will begin to self-assess their digital maturity in November as NHS England launches its digital maturity assessment.
In September 2015, NHS England announced plans to put clinical commissioning groups (CCGs) in charge of developing local digital roadmaps on how to achieve a digital NHS by 2020 in their local areas.

Download this free guide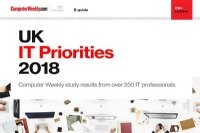 2018 UK IT Priorities survey results
IT organisations in the UK and across Europe are starting to accelerate the move to the cloud. Read more about the key areas in which senior IT managers are planning to invest in over the next 12 months.
As part of the plans, NHS England is developing a Digital Maturity Index (DMI) to measure the digital maturity of NHS providers.
Speaking to Computer Weekly ahead of the launch of the digital maturity assessment at EHI Live in Birmingham on 3 November, NHS England director of digital technology Beverley Bryant says the assessment will look at how trusts are using technology in a meaningful way.
"The assessments will be undertaken by the trusts locally and we will use those assessments to create the DMI, which will be published next year," she says.
NHS England plans to publish the DMI in March 2016, ahead of the submission deadline for the CCGs' digital roadmaps in April 2016.
The roadmaps will cover the entire local health and care economy – secondary care, social care, community, mental health and primary care – to ensure interoperability and access to patient records across the service.
By the end of October 2015, all CCGs had to submit a footprint detailing, as Bryant put it, "who's in their gang", as well as submitting governance templates for the programme.
Measuring digital maturity
All healthcare trusts in England will be required to self-assess their digital maturity using a range of criteria based around meaningful use.
NHS England decided to create its own DMI, despite there being other models already available such as the Digital Health Intelligence Clinical Digital Maturity Index (CDMI) and the HIMMS Electronic Medical Records Adoption Model (Emram).
CDMI, says Bryant, is a good benchmark of software, but is not necessarily focused on meaningful use, while Emram measures use, but only inside an organisation. NHS England wants to measure interoperability.
The assessment has, broadly speaking, three categories, she says. The first is around readiness: "How well equipped are you to do the transformation? Is the board engaged? Do you have a CCIO [chief clinical information officer] and a CIO? Are clinicians on board? It's about the overall readiness."
The second is around infrastructure. Bryant explains there is no point in having the software in place, and great use by clinicians, if you don't have good enough infrastructure to support it.
The first two categories will be relatively easy for people to answer, she says: "To do a comparable benchmarking is easy – you either have it or you don't, so it's easy to audit."
The third is trickier, as it measures clinical processes where people rate themselves against meaningful use of the system.
"We're a bit nervous about this one because it's open to interpretation," she says, adding that the alternative is a box-tickig exercise, which NHS England is keen to avoid.
When Bryant mentions "meaningful use" she refers to a definition first introduced in the US by the American Reinvestment and Recovery Act in 2009, which measures standards for using electronic records and transferring patient information electronically.
The reason interoperability is a key focus for NHS England from the very beginning is that in the US, interoperability is part of stage three of meaningful use, when you have already spend a lot of money on going digital and have all the systems in place.
If you buy some software and put all your clinicians through transformational change, and then add interoperability, it takes longer and you may end up having to buy new systems, she explains.
"When you go out and buy the software, you've got to ask the question about interoperability then. We want to build interoperability from day one," she says.
In other words, anyone going out to procurement for a new system or software should look for open application programming interfaces (APIs).
Care quality inspections
In its Personalised Health and Care 2020 framework, published in October 2014, NHS England set out a mandate for the NHS to be paper-free at the point of care by 2020.
By doing the DMI assessment, we're defining what we mean by being paper-free at the point of care, says Bryant.
This will be the first time NHS England – or anyone else for that matter – will get a full picture of how far every trust in the country has got in terms of going digital. The digital maturity assessment has been developed in partnership with 35 organisations and NHS England has run audits to check it is fit for purpose.
By March 2018, the Digital Maturity Index will be part of the Care Quality Commission's inspection regime, according to Bryant. Until then, she adds, it is about raising standards and driving development.
NHS England will undertake audits and assessments of the trusts to ensure they are developing further. "We want them to use it and tell us where the gaps are," says Bryant.
Eventually, the DMI will also become part of the GP Scorecard assessments, a new set of performance indicators for GP practices which is currently under development.
Putting CCGs in charge
Despite providers being the ones having to "get off paper", CCGs are the ones that need to make sure it happens and that it satisfies interoperability across clinical communications.
Previously, the responsibility for going paperless has been with providers, but Bryant argues that CCGs are in the best place to have an overview of the entire health economy and ensure interoperability across care settings.
As part of the footprints CCGs had to submit in October, they had to include their local authority partners because social care will also play a large role in this.
The logic behind that is in line with NHS England's Personalised Health and Care 2020 report, which stated all patient and care records will be digital, real time and interoperable by 2020.
This includes new models of care in an attempt to help close the widening funding gap in the NHS, which could rise to £30bn by 2021.
The work on those new models of care have so far been driven by "vanguard" sites, or pilot sites joining up health and care in pockets of the country.
Now the pressure is on all NHS organisations to deliver on this, but CCGs are arguably under the most pressure, being held to account for reaching the milestones set out in their roadmaps.
Bryant says CCGs understand the rationale behind being asked to lead on this, but they need support. "We recognise we need to put in some leadership support and we need to give them some money," she says.
As for every other public sector organisation, how much money, and in what form, all depends on the upcoming spending review.
However, Bryant says any funding will go to CCGs and that NHS England is "looking at doing some form of tech fund", depending on the funding they get.
The emphasis of the roadmaps and the digital maturity assessment is to help those struggling, says Bryant. "We need to be rubbing up against the organisations that are struggling and show them best practice. Trusts around the corner from them might be doing something great that they could learn from."
But that doesn't mean the digital leaders will be getting any less support, she adds, emphasising that the aim is "for this to be a supportive thing and not a regulative thing".
She says the footprints are the first step. "It takes time, it's difficult, it requires skills and focus and attention, so the first step is to be able to know who everyone is."
Supporting change
Leaving the poisoned chalice of the National Programme for IT behind, Bryant is keen to emphasise that NHS England's role is a supportive one, not a regulative one, and that this is meant to be driven and led by local organisations.
Although becoming digital at the point of care isn't optional, Bryant says NHS England will help and support any organisation that needs it, but equally, if they are getting on and doing the work, it won't be breathing down their necks.
"There is a lot of appetite for this and we need to capitalise on that appetite," she adds.
Read more on Healthcare and NHS IT