Government failed to make best use of publicly-owned networks
The Cabinet Office has published a map detailing where it could make better use of its infrastructure to benefit businesses and consumers
The government has published details of more than 13,000 miles of public sector-owned networking infrastructure as part of a review exploring how it can make more efficient use of the networks it owns, and admitted that, up to now, it has failed to do so.
At the Sprint 15 conference, which took place on 3 February in London, Cabinet Office minister Francis Maude outlined details of how the government plans to use these networks to improve connectivity for consumers and businesses all over the UK.
Westminster's annual spend on public sector networks, including mobile masts, fibre optics and cables, tops £1.5bn, and the Cabinet Office has now reached the conclusion that it has not made the best use of its infrastructure.
The result of this, Maude said, means that spare capacity has been left unused and public sector organisations have wasted even more taxpayers' money duplicating expensive bespoke networks and technology when they could have been collaborating.
The government has published a map (see below) of telecoms and digital infrastructure that reveals, for the first time, the scale and coverage of publicly-owned networks in the UK.
These include a massive fibre backhaul network owned by Network Rail, one of the largest in the country; fibre running along major roads and motorways; the N3 network, which connects NHS and social care locations; the university and college fixed fibre network Janet; and a defence network providing secure voice, data and video services to the military.
"In the past, government didn't even know what telecoms and digital infrastructure the public sector itself owned. Our new maps reveal taxpayer-funded networks stretching right across the country," said Maude.
"We will work with providers to exploit spare capacity while joining up our own approach, so more people can access high-speed broadband and better mobile phone coverage."
In an Interim Landscape Report, published alongside the Sprint 15 event, the government set out how using this infrastructure more effectively could deliver better access to superfast broadband, address mobile phone not-spots, and give better value to taxpayers.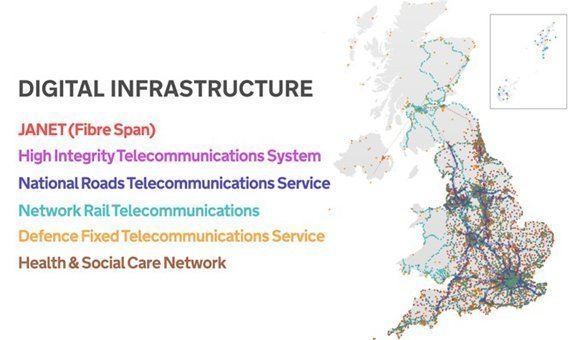 Rural business association welcomes EFRA Select Committee report
Separately, the Country Land and Business Association (CLA) has also called for the government to do more to prioritise the hardest-to-reach parts of the UK for superfast broadband.
The CLA, which recently presented evidence to the Environment, Food and Rural Affairs (EFRA) Select Committee, said the committee's final report – also released on 3 February – echoed its concerns over broadband and minimum broadband speed.
The Select Committee has found that the minimum speed laid out under the BDUK scheme of 2Mbps is "outdated to meet modern technology needs".
CLA president Henry Robinson said: "We are pleased MPs have listened carefully to the evidence we set out to them. The committee is right to conclude that a minimum speed of 2Mbps is now too slow a speed for modern requirements. It is also right to press the government to review this, but it is a shame the report stopped short of calling for a universal service obligation."
Robinson said that if the government was truly serious about levelling the playing field for rural stakeholders it would need to begin to funnel proper investment into alternative technologies.
"It is unacceptable that 10-15% of the population is still unable to get broadband. Every home or business that is not connected to the internet is suffering a major disadvantage," he added.
Read more on Telecoms networks and broadband communications