Windows 10: Microsoft at the crossroads
Windows is at a crossroad. Microsoft needs to convince businesses and third-party app developers to adopt Windows 10
Windows is at a crossroad. Microsoft needs to convince businesses and third-party app developers to adopt Windows 10.
The software giant announced a range of new features and functions for the latest version of its flagship operating system (OS) at its Next Chapter event in Seattle on 21 January. In a move that will appeal to consumers and corporate IT managers alike, Windows 10 will be a free upgrade for the first year after its release for all users of Windows 7 and 8.
Microsoft will offer consumers the ability to stream their xBox One games onto a PC screen and continue playing; the Cortana voice-controlled assistant will be available on PCs for the first time; and Office will be integrated into smartphones and smaller tablets.
Pictures, videos and documents will be available across devices through what Microsoft describes as "mobility of experience", encouraging people to create or view content on one device and seamlessly carry on working on another device using OneDrive.
Microsoft chief executive officer Satya Nadella said: "There is a specific focus on mobility for experiences, not the mobility of any single device but mobility across devices."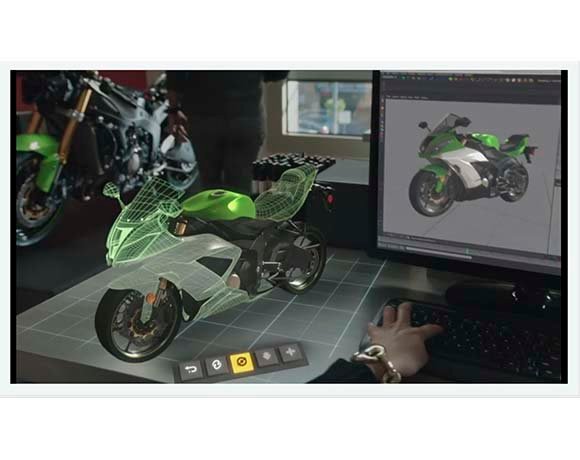 There is also an all-new holographic user interface called Windows Holographic, which works a new device, the Microsoft HoloLens headset, to create a 3D user interface (pictured, left).
While the event had plenty for consumers, the main focus was very much on business and the Windows partner ecosystem. Microsoft showcased a new device, its 84" 4k Surface Hub - a large-screen computer designed for conference rooms (pictured, below left). In a demo, the company showed how the Surface Hub could be used for real-time collaboration, using Siemens CAD software. Microsoft also showed how Surface Hub could be used with Skype Business - formerly Lync - for a video conference.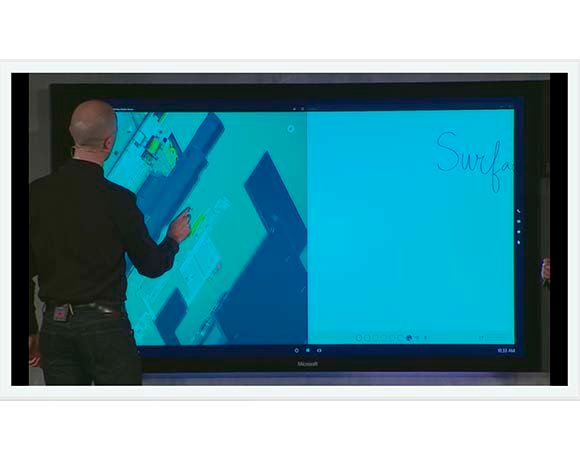 Microsoft implied that Windows 10 will effectively be the last released version of the OS. Among the changes to impact the enterprise is that Windows features will now be rolled out continuously as a service. This should spell an end to the major upgrade cycle that has plagued new Windows releases. Commenting on the changes, one Computer Weekly reader wrote: "The licensing changes are going to be the selling point."
But Microsoft is also shifting how Windows is released. The OS will be refreshed continually as part of Windows Update - Windows as a Service. Nadella said: "Windows as a service is a profound change. It is about aligning our goals for success for Windows with those of customers. Customers will get a continuous stream of innovation and the assurance their devices are secure and trusted. For developers, there is an opportunity to target and hardware and silicon partners can drive hardware innovation."
No more big bang rollout
In a report on Windows 10, Forrester Research analyst Frank Gillett noted: "Office 365 allowed Microsoft to deliver new capabilities with the rolling system updates. By moving to this new model, Microsoft can deliver new Windows 10 features at cloud speeds without having to rely on whether a customer is able to take on a large-scale upgrade. Additionally, customers will feel more comfortable in maintaining the ongoing investments in Software Assurance if they see constant payback for that investment."
Given the popularity of Android and iOS on mobile devices, Microsoft needs to convince developers that Windows remains a compelling platform for new applications.
Read more about Windows 10
A first look at Windows 10 security features
Looking ahead to Windows 10 certifications
Is Windows 10 enterprise-ready? IT's not convinced
Nadella said: "There are 1.5 billion users of Windows. Windows 10 is built for a world where nearly everything is digitally mediated. And you can interact in the most natural way, built for a world where there will be more devices on the planet than people."
As Forrester noted, only 10% of this installed base of users has upgraded to Windows 8 or 8.1.
Windows as a service provides a way for Microsoft to roll out new Windows updates continually, rather than the launch of a major new release, which should reduce the burden on IT to manage a major Windows refresh.
To entice developers Microsoft is offering a standard programming interface, called Universal Apps. This enables devices from smartphones to laptops and PCs to run Windows applications. While Universal Apps offers an opportunity for developers to extend the reach of their applications, Gillett noted: "The universal app architecture doesn't create special advantage for mobile versus the competition with tech alone."
One of the main ways to get people to migrate is to follow in iOS and Android's footsteps and make the software available as a free download. Windows 7, 8 and 8.1 users will be able to get Windows 10 for free for 12 months after the new OS is released. However, Microsoft clarified that users of Windows 7 Enterprise, Windows 8/8.1 Enterprise, and Windows RT/RT 8.1 will not be eligible. Instead Microsoft said enterprises with active Software Assurance subscriptions will receive the software through their standard volume licensing agreement.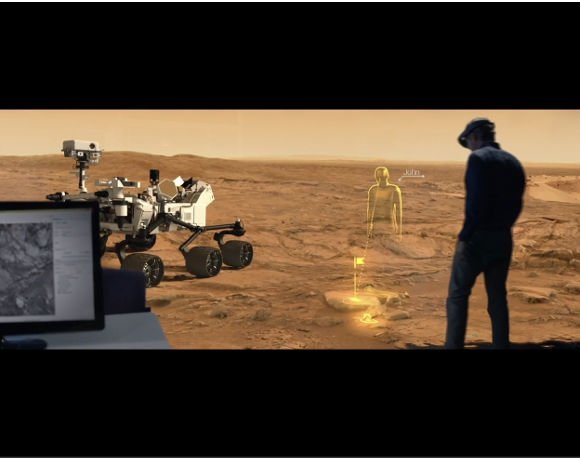 Windows Holographic
One of the highlights of the event was when the company unveiled Windows Holographic and the HoloLens device.
In a blog post Terry Meyerson, executive vice president of the operating systems group at Microsoft, wrote: "With Windows 10, holograms are Windows universal apps and Windows universal apps can work as holograms, making it possible to place three-dimensional holograms in the world around you to communicate, create and explore in a manner that is far more personal and human."
One example project is OnSite, a collaborative project between Microsoft and Nasa's Jet Propulsion Labs to enable scientists and engineers working on the Mars Explorer programme to visualise in 3D (pictured, above). JPL plans to deploy the technology in July at mission control to enable engineers to control the Curiosity Mars Rover.
Changing IT
Software as a service generally does not need user testing. People get updates as soon as Salesforce.com or Office 365 is updated. Can IT cope with the continuous rollout of desktop operating systems? It already happens with iOS and Android, although the latest versions generally do not support older devices. Forrester's Gillett urged IT departments to use Windows 10 as a forcing function to modernise their Windows management strategy.
As Gartner analyst Michael Silver noted in the Windows 10 for PCs will let organisations choose how often they update paper, while hardware requirements will not change and compatibility with Win32 applications should be high, IT departments will still need to discuss support with their software providers and do internal testing.
Arguably it is not Microsoft at the crossroads, but the IT department, because Windows 10 changes everything in terms of how to manage desktop IT. In the past IT would run extensive change management and download patches to a test server before deploying Windows updates.
As Gartner pointed out, while existing hardware should run Windows 10, IT departments will need to confirm business applications have been certified for the new platform.
Forrester's Gillett urges IT managers to avoid using existing PC management tools and techniques to support new Windows 10 desktops. Instead, Windows 10 gives IT a chance to reengineer desktop IT for a future where the majority of software and the main desktop OS will be delivered and continuously updated via the internet.