Sunborn puts network in the cloud at Docklands' first floating hotel
Hospitality firm Sunborn picks Mitel 3300 IP Communications platform for London's first floating hotel
With luxury hoteliers the world over vying to offer stand-out experiences to moneyed guests, hospitality company Sunborn had already hit on something a little different from the usual offering when it pioneered the concept of purpose-built floating hotels.
However, providing a floating network infrastructure presents more challenges than a landlubber's deployment, so Sunborn turned to the cloud when fitting out its newest location in London's Docklands.
The Sunborn London (pictured left), which opened in June 2014, is berthed near the ExCeL conference centre at the Royal Victoria Dock. It boasts 136 rooms on five decks, as well as standard luxury hotel amenities such as banqueting and conference facilities.
Sunborn also operates a similar hotel in Gibraltar and, until recently, Finland. It is currently working on another vessel, which will be moored in Barcelona, and has plans to open floating hotels in other parts of the world.
The firm claims that its Malaysia-built ships, which are fully powered and capable of putting to sea despite being designed to be permanently moored, minimise the physical and ecological footprint of comparable luxury hotels in sensitive locations.
From the sea to the cloud
Through its communications partner Britannic Technologies – a Mitel-accredited hospitality specialist – Sunborn selected a Mitel 3300 IP communications platform to run its core telephony infrastructure, with external voicemail from specialist hospitality telephony supplier Tiger TMS.
It implemented cordless Wi-Fi handsets throughout the ship for mobility, and Session Initiation Protocol (SIP) trunks delivered over Ethernet for public switched telephone network (PSTN) access.
More on IT in hospitality
Hospitality tech trends show hotels rebounding, modernising
Mitel makes a selling point out of being supplier-agnostic and able to integrate easily and swiftly with most third-party systems and applications. For Sunborn, this means it will be able to scale and evolve the system if and when its needs change.
The SIP infrastructure will be backed off to Britannic and hosted in a private cloud, providing increased resiliency and flexibility when it comes to interoperability, as well as lower call costs.
Sunborn London financial controller Ian Platt concedes that he had been initially "rather reluctant" to countenance a cloud solution due to his own concerns around security.
"With a private cloud and secure datacentres in place I can honestly say I am 100% confident in its resiliency and the flexibility it delivers to us," he says.
"Sunborn can focus on other areas and free up time rather than managing the system. It also enables us to utilise real estate for the guests, and to continue on delivering superior services," adds Platt.
Hi-tech room service
Such services include the provision of Sony and Crave tablets (pictured below) in each room to enable guests to access Wi-Fi and the wider web. The tablets also serve as a replacement for the traditional paper directory, and give users access to hotel services such as concierge and room service.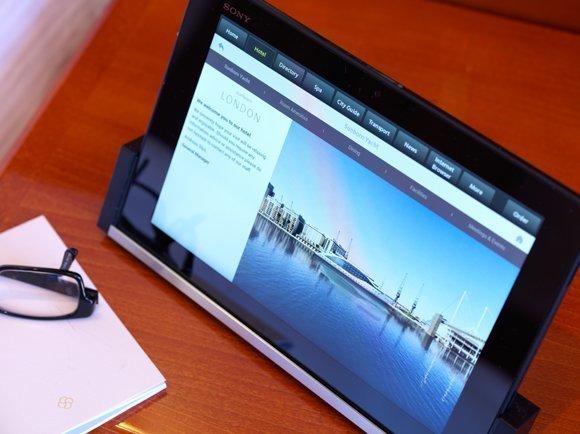 "We wanted to create a unique way for our guests to access all the information they need from one device," says Platt.
"The tablets connect to the hotel's central telephony system and the staff can deliver whatever a guest's requirements might be. For example, if a guest requires a taxi, they simply press the 'taxi' icon – the concierge is informed, orders the taxi and then notifies the guest when it has arrived," he explains.
"It is a seamless and slick process and all about improving the guest experience," he adds.
Future-proof telephony
The telephony system also includes hunt and ring groups, so if guests do want to order room service from the in-room handsets, a single call contacts a multitude of staff phones until picked up.
We wanted to create a unique way for our guests to access all the information they need from one device

Ian Platt, Sunborn London
Hotel staff are equipped with Mitel 5624 Wi-Fi VoIP handsets at all times, and bespoke back-end software assists in routing calls more effectively to the right member of staff to respond to any issues that arise.
"The telephone system is of critical importance to the hotel. Our guests and staff need to be able to contact each other whenever and wherever they are. Staff always need to be available," says Platt.
The system extends into Sunborn London's conference and meeting room facilities, where users can access a video- and audio-conferencing system, while users who are not staying at the hotel can use dedicated meeting numbers to access the on-board Wi-Fi.
Platt added that the overall system is designed to enable the hotel to maintain reliable, fit-for-purpose and flexible communications for years to come, facilitating the work of its staff while augmenting the guest experience at the same time.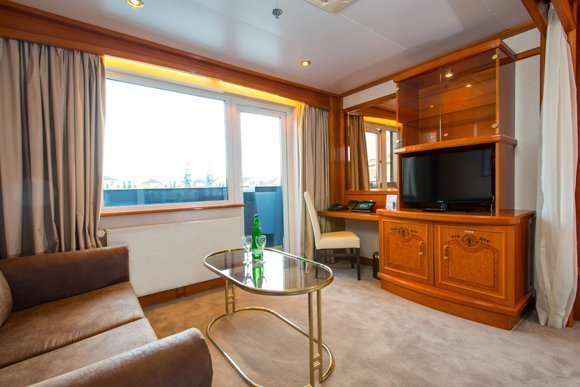 A typical Sunborn London bedroom, with tablet-based hotel service directory