Case study: Hull and East Yorkshire Hospitals NHS Trust deploys e-observation technology
Hull and East Yorkshire Hospitals NHS Trust is deploying mobile observation technologies to monitor patient health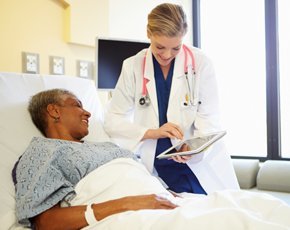 Hull and East Yorkshire (HEY) Hospitals NHS Trust is deploying e-observation technologies to enable clinicians to monitor patient observations via mobile devices.
The trust is using iOS devices to record bedside patient observations using technology powered by Nervecentre.
Clinical observations such as pulse, blood pressure and temperature are made at regular intervals throughout the day, helping doctors and nurses to calculate an early warning score which may determine is a patient is likely to deteriorate.
Previously, the trust recorded all observations on paper, marking statistics on a chart at the end of a patient's bed. Technology-based records remove the risk and inefficiency of paper-based notes because observations are centralised on the software.
"We needed smarter and more efficient ways of detecting the sick, deteriorating patient, and providing a timely and effective response to this by clinical staff," says Steve Jessop, chief nurse information officer at the Hull and East Yorkshire Hospitals NHS Trust.
The electronic system enables clinicians to record observations on a handheld device at the bedside, which then calculates the early warning score and saves this electronically. It also provides clinical staff with the option to review observations remotely and automatically alerts them to the patient's state of health.
Information security
To ensure security of patient data, the information stored on the handheld devices will only be accessible by trust devices or trust computers.
Jessop says the trust doesn't have any real concerns around security when it comes to using consumer devices because they won't be used for any other purpose.
"The issue now in any organisation is recording information on paper," he says. "Notes can get lost inside the hospital or outside, but with a digital format you still have passwords and pin codes, so information will be rendered pretty useless outside the trust's wireless network."
Reducing mortality
One of the trust's key objectives is to improve its clinical governance following targets set by the government after the Francis Report was published.
In the late 2000s, a scandal around high mortality rates at Stafford Hospital led to a public inquiry, chaired by Robert Francis QC.
HEY's e-observation system addresses standard 243 of the Francis Report, which is to ensure the recording of routine observations.
"That allows us to match [the observations] to staffing. We use a simple level of assessment to categorise patients so they get the level of care they need," says Jessop.
The trust was able to deploy the new technology because it was awarded a £950,000 NHS England grant from the Nursing Technology Fund to support the roll out of e-COBS.
It then ran a tender exercise, where it tested the products and visited other trusts using the technology before procuring. After looking at three products it chose Nervecentre because of the option to customise and expand.
Read more on Healthcare and NHS IT