Gartner: CIOs need to address procurement to buy IT from startups
Companies must reassess IT procurement to enable them do business with smaller firms, if they wish to ride the innovation curve.
Companies must reassess IT procurement to enable them do business with smaller firms, if they wish to ride the innovation curve, says Gartner.
Early indications from Gartner's CIO survey of 2000 senior IT executives, points to a shift in supplier relationship management.
In the survey, 68% of the people asked said they would change their IT providers, while a quarter said they would go with smaller suppliers.
Almost half (46%) said they would work with new partners while 26% said they were looking to diversify, from a supplier management perspective.
The findings could point to a shift in how IT sees itself within business. But traditional approaches to risk management – which have become common practice in IT to ensure value for money and put checks and balances to verify the supplier's business viability – are a barrier for small entrants.
As Computer Weekly has previously reported, in spite of the UK government's stated policy to attract smaller suppliers, the tender process is still seen as too complex and costly, precluding some small suppliers from participating.
SMEs need expensive, CESG-approved consultants to understand the language and processes and access some of the required information and CESG-approved contractors to carry out the IT health checks required to prove their IT services.
More articles on startups
Working with small IT suppliers
Working with smaller suppliers was one of the hot topics at this year's Gartner Symposium in Barcelona.
Speaking at a seminar at the Gartner Symposium, Kevin Griffin CIO GE Capital, said: "We are very good at managing big vendors. We now have a more enlightened view of suppliers. Partnering is key. We have to change mindset, and work with nimbler companies to deliver solutions."
David Speirs, CIO of newspaper distributor Menzies Distribution, said the company took three years to implement an SAP system, which presented one version of the truth. He said: "We spent the last few years stabilising the platform." Now that it has been delivered he said the company is ready to move forward with an innovation strategy. "We are dealing a lot more with startups. We are using them a lot more than before because they have fresh ideas."
But in large organisations and government, supplier risk assessment and regulatory compliance can hamper a CIO's ability to work with smaller IT firms. John Finch, CIO of the Bank of England said: "Big suppliers are not able to innovate at the speed we need, but the purchasing supply chain can be a deterrent to smaller businesses."
This change in how CIOs view smaller IT firms reflects a change in priority for IT people.
Moving away from the industralisation of IT
Gartner fellow, Dave Aron said: "We have spent the last 10 years industrialising core IT. Now is the time to innovate again."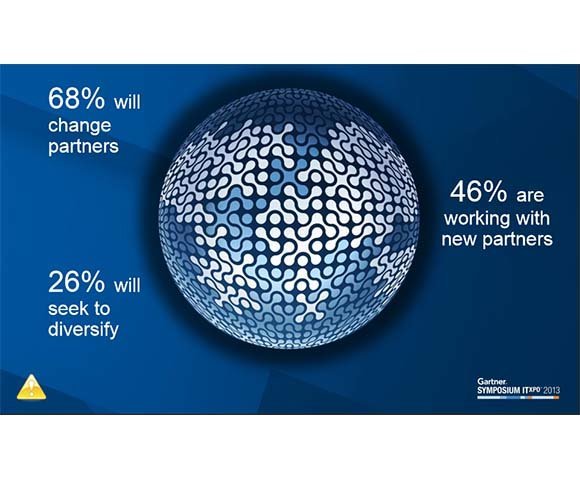 The shift involves a move for IT away from being responsible for keeping the back office running, locking down systems and protecting the company's intellectual property through IT security policies, to being open to ideas.
The survey found that half of CIOs have split the IT function into two-speed IT organisations, with one part focusing on traditional IT while the other looks at innovation.
While larger firms are providing core IT functionality such as systems of record and the infrastructure behind these systems, Gartner sees a need for IT departments to focus on IT systems that enable the business to differentiate and innovate.
For instance, at UNHCR (UN Refugee Agency), CIO Naginder Kaur Dhanoa, runs a virtual innovation team alongside the core IT function. She said: "We take in people from [our] field office, not just the head office and reward people if they come up with ideas for innovation." According to Dhanoa people are motivated because they are able to chip in their ideas.
However, only 19% of CIOs, according to Gartner said that they have the right skills within their department to support innovation and agility. Some CIOs believe the major suppliers are unable to provide everything they need in terms of the systems of differentiation and innovation.
Speaking to Computer in November, McKinsey & Company CIO, Mike Wright said: "It's much harder to have a debate with [a larger company's] technologist. They need to ensure they are sensible, and don't say anything inappropriate, which is good in some ways, but I also don't think that's how you find real expertise."
Gartner's findings show that IT departments are prepared to consider smaller companies to inject innovation into the IT organisation. In fact, 45% of the CIOs who participated in the Gartner study said they are turning to startups and less established companies for products and services.
Read more on IT innovation, research and development