Job growth in UK technology sector storms ahead, says report
Job growth in the UK technology sector has outperformed the rest of the UK private sector over the past ten years
Employment growth in the UK technology sector has outperformed the rest of the UK private sector over the past ten years.
The Tech Monitor UK report by KMPG and Markit found employment in technology companies is much stronger than the UK-wide employment trend.
UK tech firms also plan to increase employment over the next 12 months.
Ten years' worth of historic data from the UK Tech Sector Purchasing Managers' Index (PMI) up until August 2013 was used to determine the trends.
KPMG commissioned the report to identify employment trends and tech clusters in the UK, and find out how confident UK tech companies are about their business outlook.
South East has the most tech companies
The report noted South East England as the area with the highest proportion of tech workers.
Wokingham was ranked the highest for concentration of technology jobs. It is home to large firms in various business parks in the area. Other clusters in South East England include Rushmoor and Hart.
London has the second highest proportion of tech workers, particularly concentrated in Richmond upon Thames and Hounslow.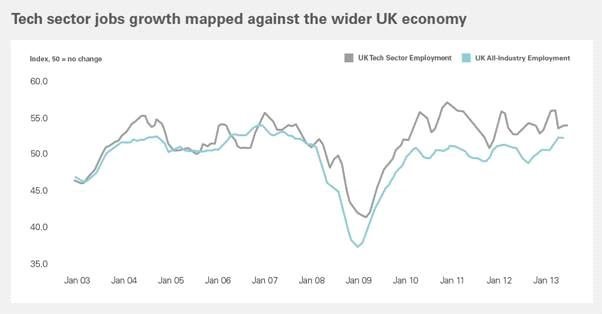 London's Tech City (or Silicon Roundabout), situated in and around Old Street, was also featured as one of the larger tech concentrations in London. However, because Old Street straddles two London boroughs – Hackney and Islington – it was not the top area for the capital.
The location data of the report is also based on VAT-registered companies from 2011 Office of National Statistics data so may not include some of the Tech City startups that have matured more recently.
Meanwhile, many UK technology startups face a hiring roadblock with the UK's immigration policy hindering the growth of London's tech hub.
More on technology startups
Computer Weekly spoke to several startups who are struggling to find talented employees in the UK and are finding it equally difficult to jump through the hoops of hiring talent from abroad.
The KPMG report claimed Scotland as the lowest proportion of tech workers, followed by Yorkshire and Humber.
In Scotland, the proportion of tech workers was less than half the national average, but some individual local authorities exceeded the UK-wide benchmark.
London centric
While the report highlights how the technology sector is playing an important role in the recovery of the UK economy, it also highlights how technology firms still gravitate towards London and South East England.
The mayor of London also submitted a plan to the Home Office proposing a 'London Visa' to attract business to the capital in September.
Boris Johnson's idea for a London Visa would make it easier for talented technologists from around the world to get jobs in the city.
But areas such as Cambridge, Manchester, Bristol also have technology clusters they hope will rival London's Silicon Roundabout.